Scottish football clubs 'hoping for profit'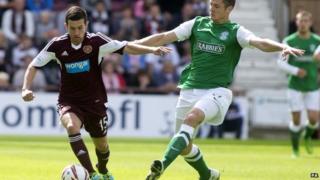 Scotland's top football clubs are becoming more confident about their financial future, a leading consultant has claimed.
Charles Barnett, of BDO, said a large proportion of Scottish Premiership clubs believed they would be profitable in the coming year.
He also said revenues had not been adversely affected by the loss of Rangers.
Five of the 12 teams in the Scottish top flight took part in the survey.
It was carried out before the Scottish Premier League was rebranded the Scottish Premiership.
The BDO report, "A new dawn for fair play", questioned the finance directors of 66 teams from leagues in Scotland and England.
It said SPL clubs were more optimistic in terms of predicting profitability than English Premier League clubs.
Wage costs
In Scotland 60% said they would make a profit after player trading and depreciation, whereas in England's top league it was 42%.
Mr Barnett, professional sports group partner at BDO, said: "After a year in which both Hearts and Dunfermline Athletic fell into administration it is welcome news that a large proportion of SPL clubs believe that they will be profitable in the coming year."
He said there were "welcome" signs that clubs were making an effort to control wage costs but they still had some way to go.
"In actual wages 20% said they would spend the same with 80% stating they will spend less," he said.
"The fans never like this but it must be the way forward if Scottish football is to remain viable in the future."
Mr Barnett said the biggest financial concern for Scottish clubs over the next 12 months was falling attendances due to the current economic climate, with the potential fall in TV income second.
He said it was too early to predict the financial impact of the change in the structure of Scottish football to the SPFL or the arrival of BT as a newcomer into the broadcasting market.
He said: "There are clearly some deep-rooted difficulties in Scottish football which may take some years to work through.
"The excesses of the last decade or so are still working their way through the Scottish football sector."
Mr Barnett concluded that many clubs continued to exist on a "financial precipice" where an unexpected additional expense might push them over the edge.