Record high for Scots students securing university places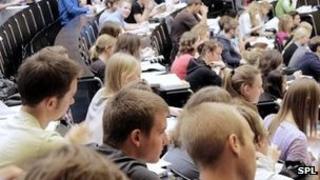 The number of Scots going to university stands at a record high and the number of Scots who had a place secured after their exam results is also at a high.
But there's been concern for some of those who failed to win the place they wanted because their exams weren't good enough.
The clearing system is the way people who did not get the grades they needed for the courses they applied for can still get to university this year.
Essentially it allocates "spare" places on courses.
Critics have noted that relatively few clearing places are available to Scottish students nowadays while hundreds of courses are currently open through clearing to applicants from the rest of the UK.
This has led to claims of discrimination and that Scots are losing out. These accusations are strongly disputed by universities, the Scottish government and the National Union of Students.
Paid tuition
So, why are there relatively few clearing places open to Scots?
Essentially there are three groups of students at Scottish universities, including;
Scottish students whose tuition fees are paid by the Scottish government. Under European law, students from EU countries outside the UK are also in this group.
students from England, Wales and Northern Ireland who are charged tuition fees of up to £9,000 a year by the university.
and students from the rest of the world who can be charged potentially unlimited tuition fees.
The Scottish government funds a fixed number of places for Scottish and EU students which means there's a cap on numbers.
However, universities can decide for themselves how many students they can accept from the rest of the UK and outside the EU.
The irony is more Scottish institutions actually had places available through clearing to Scottish candidates this year than last year.
Universities strongly argue any claim that Scottish students are losing out or being discriminated against are completely wide of the mark.
The issue is there is a cap on the number of Scottish and EU students.
Because the government funds a fixed number of places for Scottish and EU students, it is inevitable demand will exceed supply for many courses.
The number of available places is agreed between universities and the Scottish government.
But universities are adamant students from the rest of the UK and outside the EU are not taking places away from Scottish students. While, overall, the number of places at Scottish universities for Scottish students is at its highest ever level.
To give a hypothetical example, the Scottish Funding Council - the government agency which distributes money to universities - may agree to fund 40 places for Scottish and EU students on a particular course. The university may also decide it can admit 10 people from the rest of the UK or outside the EU.
If only 38 Scots or EU students got unconditional offers of a place or got the exam results they needed, the other two places would go into the clearing process to try to find other Scottish or EU students. These places would not be offered to applicants from elsewhere.
Universities also dismiss suggestions students from the rest of the UK are being used as "cash cows" because they are charged tuition fees.
Point of principle
Still it can be frustrating for a student who narrowly missed out on the university place they wanted to discover clearing places are still available to people from the rest of the UK.
The Scottish government makes the point more Scots than ever before are going to university and is proud students don't pay tuition fees. But might there be ways of dealing with the apparent discrepancy?
One suggestion might be the abolition of free tuition in Scotland. Scottish universities could charge tuition fees just as they do to students from other parts of the UK and there would be no cap on the numbers they could accept.
It might also be possible to argue that Scottish universities could charge fees for those students who fail to win a "free" place funded by the SFC.
But there is simply no political appetite in Scotland for such a move. First Minister Alex Salmond regards free tuition as a point of principle and has said the "rocks would melt in the sun" before he contemplated tuition fees for Scottish students.