David Greig's new play watches The Events unfold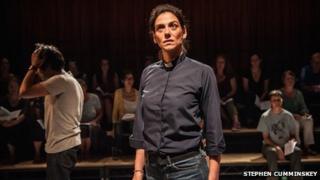 Scottish playwright David Greig caused a bit of a flurry on Twitter earlier this year when it emerged he was researching his latest play in Norway, and looking in particular at the mass shooting of students by Anders Breivik.
The resulting play - The Events - is, despite the speculation, not a musical, and not specifically about Breivik, who was convicted of killing 69 young people on the island of Utoya two years ago (and a further eight in a bomb attack on a government building in Oslo).
It is, though, a thought-provoking, moving and surprisingly funny account of the way an unnamed community survives such an atrocity.
The story centres on Claire (Neve McIntosh) a minister in an unspecified community who has witnessed the killing of many of the members of her choir.
Rudi Dharmalingam is The Boy, who perpetrates the crime.
He is also many of the other characters Claire seeks answers from.
Different performance
Music is central to the show, directed by Ramin Gray. The choir is not only part of the story - onstage throughout - but they perform the show's distinctive soundtrack.
And here's the challenge for the Actors Touring Company, which is staging the show at the Traverse Theatre: It is a different choir in every performance.
On opening weekend it is the CoroEdina Choir - an Edinburgh based choir who are regulars on the Fringe.
Like all the choirs on the extensive list, they have been attending regular rehearsals during the festival to rehearse the music from the show - which ranges from How Great Thou Art to Dizzee Rascal.
But part of the play's appeal is the genuine response of the choir to the events around them.
From the audience, there is genuine laughter, shock and empathy as The Events unfold.
The task of recruiting choirs (no mean one in hectic festival time) was left to the Actors Touring Company and Choir Repetiteur James Slimings, who launched a nationwide appeal.
Many of the choirs are already appearing at the festival. Some are merely coming for the day of their performance. And all have very different styles of singing.
Western Connecticut State University are performing at the Gilded Balloon in Lysistrata: The Disco Vaudeville Rock'n'Roll Musical but all 25 of their singers are up for the challenge.
Music for Uist is, as their name suggests, a Hebridean choir while the Gilmerton Singers and Voice of the Town are two well-known Edinburgh choirs.
There's even a specially set-up Fringe Choir, made up of singers from across the festival.
And the challenge continues after the festival ends.
The show is due to tour nationwide, including a run at the Young Vic in London (which co-produced it) and dates in Austria and Norway.