Police probe further abuse claims at Fort Augustus Abbey School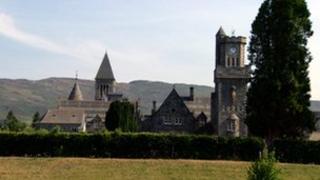 Police have received further reports of alleged abuse by monks at a former Catholic school in the Highlands.
A BBC programme broadcast last week uncovered evidence of physical and sexual abuse at Fort Augustus Abbey School.
Police - who began investigating allegations of abuse last March - said they were liaising with law enforcement agencies in the UK and beyond.
The Church has apologised for what happened at the school.
However, victims have demanded action rather than words.
'Trained officers'
Det Ch Insp Pamela Ross of Police Scotland's Highland and Islands Division said: "Further individuals were identified as part of the investigation and following recent media coverage a further number of former pupils have come forward to speak to us.
"We understand that it must be very difficult to speak about such matters, but if anyone has any information about this case, they are encouraged to come forward and report this to police.
"Any such reports will be directed to the enquiry team and investigated and dealt with very sensitively by trained officers."
BBC Scotland Investigates: Sins of Our Fathers, which was broadcast a week ago, contained evidence against seven monks at Fort Augustus Abbey School and its prep school in East Lothian.
The Benedictine order which ran the schools has already apologised.
'Shameful' abuse
Since the documentary aired, BBC Scotland has been contacted by other former pupils with fresh allegations of abuse.
On Sunday, the Bishop of Aberdeen, Hugh Gilbert, was the first senior Catholic cleric to speak about what he called the "shameful" abuse in an address to parishioners at Fort Augustus.
He said: "We are anxious that there be a thorough police investigation into all this, and that all that can be done should be done for the victims."
But Christopher Walls, who was physically and sexually abused when he was a pupil at Carlekemp Prep School in East Lothian, told BBC Scotland's Good Morning Scotland programme he was "rather less than impressed" by the apology.
He said: "My brother and I have been complaining about it since 2010, officially, and I've mentioned it to other clergy in between, several times, always getting a 'shushing' response - 'keep quiet about it and offer it up' - presumably not to disturb the unity of the church.
"I think these are sins crying out to heaven for vengeance, quite frankly, and the response must be more vigorous and more directly concerned with me."
He added: "If you rob someone of their childhood and their education, you have got to put that right."
Mr Walls said he was now looking at pursuing legal action and would be seeking financial compensation.
He added: "Ideally I would like them to settle out (of court), because it saves everybody a lot of problems, and it also would make me feel a bit prouder of the faith that I have been involved in all my life."
Active ministry
The Catholic Church in Scotland has insisted its safeguarding protocols, aimed at protecting against child sex abuse, are robust and transparent.
It has also said it will publish details of its annual audits, which deal with abuse allegations dating back to 2006.
Tina Campbell, a safeguarding adviser for the Diocese of Motherwell, said it was "absolutely disgraceful" that Mr Walls had been "silenced" in the past when he spoke to priests. She insisted the Catholic Church would now deal with all allegations of abuse robustly.
"New allegations, if they are coming to the Church, will be handed immediately to the police," she told BBC Radio Scotland.
"What the police will be doing is finding out if those priests are still alive or if they are dead. If they are still alive, where are they?
"If they are in active ministry, and if they are still in the Benedictine order, some may not be and may have gone elsewhere, then their ministry has to be stopped immediately."
Ms Campbell also said the church would look back at records and files relating to allegations of abuse over the past 50 years and would publish details of these in 2014.
"We are in a situation where there are files in each diocese, in each vault, and they will be gone through, they will be scrutinised and reports will be collated and that will take us a little bit longer to do that," she said.