Call for obesity action from hospitals and supermarkets
Hospitals and supermarkets must do better in tackling Scotland's obesity epidemic, according to public health minister Michael Matheson.
He was speaking after the BBC found the number of Scots getting weight-loss surgery was more than three times the rate of 10 years ago.
Secret filming for the programme also revealed the prevalence of unhealthy food in Glasgow and Clyde hospitals.
Mr Matheson said the government was prepared to legislate if necessary.
Obesity league
Scotland is the world's second fattest country, with two-thirds of adults classed as overweight or obese.
A BBC investigation, Scotland the Fat, explores why the country remains stubbornly fixed towards the top of the obesity league tables, second only to the US.
Obesity is estimated to cost the NHS in Scotland £200m a year and doctors say it is taking a heavy toll on health.
In extreme cases, bariatric surgery - the generic term for weight loss surgery - is performed by the NHS.
The most common procedures are gastric bands, the gastric bypass, where the stomach is bypassed, and sleeve gastrectomy, which involves dividing the stomach.
Majid Ali, a consultant surgeon at Ayr Hospital, said demand for bariatric surgery was so great the hospital had to ration it.
"I had an influx of patients, a huge number of patients wanting these operations," he said.
"I had to ration it to the people who would benefit the most, which are those who have Type 2 diabetes and sleep apnoea."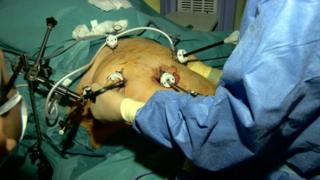 The BBC sent Freedom of Information requests to all Scottish health boards, asking how many obese patients had weight-loss surgery in 2011-12, compared to 10 years earlier.
It found procedures had increased in half of Scotland's 14 health boards, with the biggest rises in NHS Lothian, Tayside, Fife and Grampian.
A Mori poll commissioned by the BBC for the programme found the majority of Scots no longer cook for themselves, with more than half (55%) relying on ready meals or takeaways at least three times a week.
Less than a third of working age Scots (27%) cook for themselves every night, the poll revealed.
For Scots living in the most deprived areas, almost one in five (17%) said they did not cook a single evening meal from scratch.
Gillian Dick is a cooking co-ordinator for NHS Ayrshire and Arran, where a cooking initiative teaches people how to make cheap, healthy meals at home.
She said: "We have some families who don't have an oven, only a microwave. That's quite shocking because it means all they can do is processed meals."
She said that often people who come to the courses have not been taught the most basic of cooking skills.
"A lot of people will not have cut an onion, that's common, a lot of people have never peeled a carrot."
At his heaviest, David McAtee, from Cumnock in Ayrshire, was 28st (178kg). He lost 15st (95kg) after having a gastric bypass operation in December 2012. The father-of-one said he had a family history of obesity.
He said: "My mum died from being obese, my step-sister died from being obese. That was really hard. If I hadn't had the surgery I would have died."
The 43-year-old said supermarket promotions on cheap, unhealthy food do not help people prone to overeating.
The ready meals market is worth £2.5bn a year. The voice of the major supermarkets, the British Retail Consortium, said it was not true that unhealthy food was being promoted over healthy options.
Andrew Opie, director of food and sustainability, said: "It's actually cheaper to eat good nutritious food, fresh fruit and vegetables, than it is to buy processed food."
But the Scottish government said the industry had to "recognise" the part it plays in the problem, and in creating a solution.
Mr Matheson said: "If they think they're doing enough at the present moment, then the message from government is, I'm sorry, it's not adequate, and that's why we're taking forward a range of measures that we want to see them taking action on, and if they don't, then we're prepared to legislate where necessary."
BBC secret filming also revealed an array of unhealthy snacks on sale in NHS Greater Glasgow and Clyde hospitals, in shops, canteens and patient trolleys.
The GGC health board said hospital cafes were run by volunteers and they had no control over what they served. It said hospital trolleys should be 50% healthy and include fresh fruit.
The minister said health boards should ensure the healthy eating messages were being followed.
He said: "If there is an issue where some of our boards are giving out mixed messages around healthy eating and are not giving sufficient prominence to issues around healthy eating then I think they should look at taking action."
BBC Scotland Investigates: Scotland the Fat will be shown on BBC1 Scotland on Thursday 15 August at 20:00, and for a week afterwards on the BBC iPlayer.