Bag charge to bring £90m boost to Scotland, report says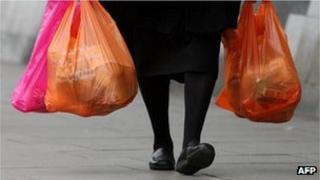 Charging Scottish shoppers for carrier bags would bring a net benefit of £90m, a Scottish government report says.
Some shops already charge for bags, but under ministers' plans all would impose a minimum fee of 5p after October 2014.
The proposal aims to reduce consumer waste, with proceeds from sales donated to charities and environmental groups.
The assessment examines the long term costs to businesses and shoppers over time, compared with the current voluntary charge system.
The Scottish government previously said the charge could raise up to £5m each year for good causes.
It added a consultation found Scottish residents supported bringing in a charge.
The report outlines one-off costs to retailers, estimated to amount to £1.7m, such as altering tills to process and itemise the charge on receipts, train staff and communicate changes.
Annual costs to larger retailers of keeping records and reporting on the change are estimated at £1.5m.
The government says it wants the scheme to be "cost-neutral" to retailers and plans to negotiate an agreement on donating the net proceeds after recovering administration costs.
One-off costs to the government, including advertising and communication and preparatory work on enforcement, are estimated at £1m and there is expected to be a further £1m in annual costs.
A spokesman for Scottish minister Richard Lochhead said that Scotland, Wales and Northern all "either have this policy in place or are introducing it".
He added: "Our analysis suggests carrier bag charging will actually save Scotland an estimated £7m a year and benefit the Scottish economy by about £90m over the forecast period.
"Our assessment indicates that the wider economic benefits of this policy will balance out the potential impacts on carrier bag suppliers.
"Almost all bags used in Scotland are imported, but we are committed to working with the small number of businesses who may be affected, to help them diversify into other product areas and the implementation timeframe will give them plenty time to adapt.
"And evidence from Ireland suggests that most companies there already supplied other packaging and were able to diversify swiftly after their charge was introduced."
'Red tape'
Wales became the first part of the UK to introduce a minimum charge for single-use carrier bags in 2011 and a charge was brought in Northern Ireland this April.
The Department for Environment, Food and Rural Affairs has said it is examining the evidence from Wales and wants to work with shops in England to reduce waste but has not proposed a mandatory charge for carrier bags.
Business organisation CBI Scotland has complained the move will mean "costly additional red tape" for firms.
And responding to the report, Conservative MSP Jamie McGrigor, the party's environment spokesman, said: "It's all very well saying this is a move to safeguard the environment, but that's of no consolation to struggling retailers who are being lumbered with more costly red tape.
"And people who find it hard enough to pay their weekly shopping bill are going to find there's yet another charge to contend with.
"We'd much prefer to see an incentive-based scheme brought in, which could see shoppers rewarded - something that will make it easy for businesses to run if they want to."
WWF Scotland director Lang Banks said: "There will always be some costs associated with the introduction of any new initiative.
"However, the report clearly shows the overwhelming result will be a positive one for the environment and for the taxpayer, with cleaner streets and countryside as well as less waste."