New claims of abuse at Fort Augustus Abbey School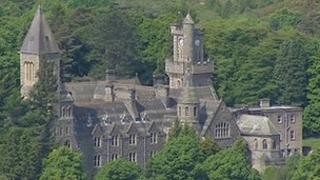 BBC Scotland has been contacted by more than a dozen former pupils of Fort Augustus Abbey School with fresh allegations of abuse.
Their calls were prompted by the programme BBC Scotland Investigates: Sins of Our Fathers, which was broadcast on Monday.
It contained testimony from former pupils, speaking openly, and for the first time, about life with the monks.
The BBC is attempting to check the new allegations.
They concerned a further three monks associated with the school, who were not featured in Monday's programme.
Two of them are still alive.
Many former pupils who spoke to the programme team said they had nothing but good memories, but during the six-month investigation, the BBC also heard accounts from old boys of physical violence and sexual assault, including rape by monks, at the fee-paying schools.
The programme contained evidence against seven Fort Augustus monks. Two headmasters have also been accused of covering-up the abuse.
The calls made to BBC Scotland since the programme was broadcast also included five fresh complaints of sexual abuse by one of the monks named in the programme.