Police probe Fort Augustus Abbey monk abuse claims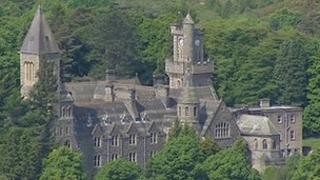 Police have confirmed they are investigating allegations of abuse by monks at a former Scottish Catholic boarding school.
It follows a BBC Scotland investigation which uncovered evidence of 30 years of physical and sexual abuse at Fort Augustus Abbey in the Highlands and its East Lothian prep school.
The Benedictine order which ran the schools has apologised to any victims.
Fresh claims of abuse have now emerged since the programme aired on Monday.
The documentary has also prompted calls for more support for victims.
In a statement Police Scotland, said it would make no further comment at this stage as it was now a "live investigation".
It added that all such allegations are investigated and dealt with in a "victim-centred" manner.
'Violently abused'
The BBC spoke to 50 former pupils about their experiences at Fort Augustus Abbey school and Carlekemp.
The programme, BBC Scotland Investigates: Sins of Our Fathers, which was broadcast on Monday, contained testimony from former pupils, speaking openly, and for the first time, about life with the monks.
Many said they had nothing but good memories, but during the six-month investigation, the BBC also heard accounts from old boys of physical violence and sexual assault, including rape by monks, at the fee-paying schools.
The programme contained evidence against seven Fort Augustus monks. Two headmasters have also been accused of covering-up the abuse.
Since the documentary was broadcast, the BBC has been contacted by other former pupils with similar abuse claims.
Tim Coppin said he studied at Fort Augustus from 1960 until 1965 and told BBC Scotland he was "violently abused" and tortured by monks there.
"The main thing was whipping by the teachers, by the monks themselves," he told BBC Radio Scotland, in an interview to be broadcast on the Newsdrive programme.
Safeguarding policy
Dom Richard Yeo, the Abbot President of English Benedictine Congregation, which unites autonomous Roman Catholic Benedictine communities of monks and nuns, has apologised and admitted his organisation made mistakes in dealing with allegations of child abuse.
But speaking on BBC Radio Scotland's Good Morning Scotland programme, Father John Robinson, the patron of a charity for abuse survivors, said the apology did not go far enough.
"There are all sorts of good words spoken, like 'sorry', and I appreciate that. But there is no programme of care for the victims," he said.
"The Church keeps falling back on the safeguarding policy. What we are dealing with is the utter failure of safeguarding."
Tina Campbell is the safeguarding adviser for the Diocese of Motherwell. She told Radio Scotland the Catholic Church wanted to learn from the "mistakes of the past" and said support was offered for victims.
"I think the safeguarding remit of the Catholic Church has meant that, in the last few years particularly, we have got very strong policies and protocols in place so people know what to do," she said.
When an allegation of abuse is made against a member of the clergy the police are now informed at the same time as the church authorities.
Ms Campbell added: "In terms of support within the church for victims of sexual abuse, every diocese has an authorised 'listener'. They are trained and prepared and supported to receive concerns and to offer people who have suffered abuse, support and ongoing counselling."
Local shock
Alan Draper, an academic and former adviser to the Catholic Church in Scotland on child protection issues, said he found the BBC Scotland investigation both "moving and shocking".
He praised the men who shared their stories and said: "What we all saw, was that these men live with the trauma all the time.
"It is the failure of the institution. This is a worldwide issue for the Catholic Church - their failure to reach out to victims."
MSP Dave Thompson, whose Skye, Lochaber and Badenoch constituency includes Fort Augustus Abbey, said local people were shocked at what the BBC Scotland investigation had uncovered.
He added: "These revelations are pretty horrific and people in the area are going to feel that this was something going on under their noses which they had no idea about and will be shocked by that.
"The Benedictine monks and Roman Catholic Church have a big job to restore trust in the church.
"They need to look very carefully at what happened in the past."