'Boarding' increases hospital stays and spreads infections, researchers say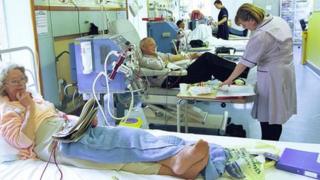 Moving patients between wards results in them staying in hospital longer and increases the risk of infections spreading, researchers have warned.
Dundee University researchers examined boarding - where a patient is moved from a specialist ward to a ward treating different conditions.
They claim a reduction in bed numbers and a rise in hospital admissions had led to this becoming more common.
This was especially the case among older patients.
Prof Marion McMurdo and Dr Miles Witham, from the university's school of medicine, said that while boarding was sometimes viewed as a "necessary evil", it appeared to be a "false economy".
Prof McMurdo said: "Boarding is sometimes viewed as a necessary evil - at least compared to the alternative of having no bed in which to admit patients from the overflowing acute admissions unit.
"Yet, at a systems level, boarding appears to be a false economy - every ward move increases length of stay, thus exacerbating the very problem that boarding attempts to circumvent.
"Worse still, frequent moves around a hospital are likely to increase the risk of infection transmission, a factor trusts have been advised to incorporate into bed management policies."
Dr Neil Dewhurst, president of the Royal College of Physicians of Edinburgh (RCPE), said it would "strongly support today's call to reduce unnecessary ward moves in the elderly".
He said: "Regrettably, frail and vulnerable elderly patients, admitted to hospital as a result of serious illness and requiring specialist medical care, are disproportionately affected by boarding. This involves placing patients in non-specialised wards due to bed shortages.
"Such patients are likely to be the least likely to be able to cope with repeated ward moves."
'Vicious circle'
He added: "There is evidence that this can increase their length of stay, their likelihood of readmission to hospital and reduce their likelihood of continuing to live independently at home. This, in turn, creates a vicious circle and places further pressure on already over-stretched hospital services."
He said there were currently insufficient properly-supported acute beds in Scottish hospitals to ensure that such patients were treated in the right wards by the right medical staff at the right time.
He added that the RCPE was working with the Scottish government to reduce boarding and would be developing guidance for the NHS in Scotland, to be published later this year.
The Dundee research has been published in the journal Age and Ageing and says changes of environment can increase the risk of both falls and delirium among patients - problems associated with a greater risk of serious injury and increased death rates.
Dr Witham said a survey of medical staff had shown that 92% of doctors would "refuse to have a relative of theirs boarded out", adding: "This hardly inspires confidence in the quality of care received by patients who are moved around the hospital environment."
Daily reviews
Health Secretary Alex Neil said: "Effective management of patient flows through their time in hospital is one of our priorities.
"Scotland is the first country in the UK to deal with the issue of boarding to further improve the quality of care in our hospitals.
"In December we adopted a new collaborative work programme between the Royal College of Physicians of Edinburgh (RCPE) and NHS Scotland that will address the practice known as 'boarding'.
"This work has already begun and is proving productive. However, there is more to be done and this will involve reviewing the number and speciality type of beds for acute care, ensuring that there are enough medical consultants and nurses and having daily reviews of patients by consultants."
Labour health spokesman Neil Findlay said: "SNP choices have led to cuts to nursing staff, a scandal over fiddled waiting times and the loss of hundreds of hospital beds.
"This isn't sustainable and there has to be a better strategy to cope with the increasing demands on services that alleviates pressure on overworked staff but also gives patients the care and respect they deserve."