Fire and health warnings as hot weather continues in Scotland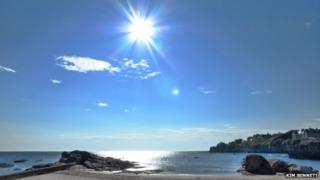 Warnings of heatstroke and the dangers of wildfires have been issued as Scotland basks in high temperatures on Friday and into the weekend.
Walkers and climbers have been urged to guard against potentially fatal overheating and dehydration.
Scottish Natural Heritage (SNH) said conditions also posed a threat of uncontrolled fire spreading across land and wildlife habitats.
The next few days are likely to see temperatures at 27C or higher.
Firefighters have already dealt with a large blaze at Tentsmuir Forest in north east Fife and SNH urged extreme caution with fires, cigarettes and barbecues.
Hyperthermia risk
Catriona Reid, Muir of Dinnet National Nature Reserve manager, said: "A bad wildfire could easily destroy an entire nature reserve, which are important places for Scotland's wildlife.
"Wildfires damage habitats and kill wildlife, especially young animals. They also cost a lot of money to bring under control."
In the Cairngorms, Highland Council countryside ranger Duncan Macdonald, said: "Many visitors to the countryside love a fire as part of their outdoor experience but in this continuing dry weather, we are asking people not to light them apart from where permitted in designated areas and official campsites."
The Mountaineering Council of Scotland (MCofS) said the heat also raised the problem of hyperthermia - the opposite of the more commonly-known hypothermia.
Heather Morning, mountain safety adviser, said: "Dehydration, heat exhaustion and heatstroke - which is potentially fatal - are all possibilities in this weather.
"Climbers and walkers should be aware of the signs to look out for in themselves and in their companions."
Midday sun
The council warned that physical exertion increased the risks, as bodies produced more heat than they can get rid of.
When core temperature reaches beyond 40C the cells in the body start to break down, sweating ceases, heart and breathing rates increase and the person may have a fit, hallucinate or lose consciousness.
Walkers were asked to carry and drink plenty of water, wear loose, light-coloured clothes and stay out of the sun as much as possible, especially the midday sun.
BBC Scotland weather presenter Gillian Smart said: "High pressure centred directly over Scotland is keeping the weather settled and very warm indeed as we head into the weekend.
"Many places will reach 26C or 27C, that's into the 80s in Fahrenheit.
"Head to the east coast for relief from the heat - haar [sea fog] from the North Sea will keep it a little cooler."