Call to end 'religious interference' in Scottish councils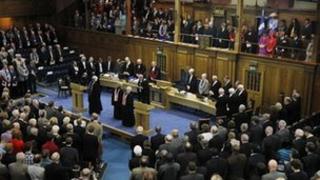 The presence of unelected religious representatives on council education committees in Scotland has been condemned as "profoundly undemocratic".
The Edinburgh Secular Society (ESS) has criticised the system.
It claimed it was evidence of "religious interference at the heart of local democracy".
The ESS said that a total of 91 unelected religious representatives have seats on Scotland's 32 local authority education committees.
They were not voted in by the electorate but appointed after nomination by their local churches.
They do have full voting rights on all education issues and council tax payers pay their expenses.
The ESS singled out the Church of Scotland for special comment and pointed to a recent report by its Church and Society Council to the General Assembly which claimed church representatives hold the balance of power on 19 council committees.
Prof Norman Bonney, social science researcher and ESS founding member, said: "The legally required appointment of religious nominees to local authority education committees is profoundly undemocratic.
"There has to be a fundamental rethink of these arrangements to ensure that education committee decisions are made by councillors and not by unelected religious representatives."
Minority groups
The ESS said religious representative placements are not open to those without any declared religious beliefs, nor to humanists, or to many minority religious faith groups.
The group has now called on the Scottish government to review the need for such a "discriminatory law".
Edinburgh councillor Sandy Howat added: "Continued undemocratic privilege of the few over the many is an outdated tradition we should remove. As we look to create a fairer Scotland with liberty at its core, we need to ask ourselves what this 'privilege' says about our values; it's time for a new enlightenment."
The Church of Scotland has defended the contribution of the people serving on local government committees.
Rev Sally Foster-Fulton, Convener of the kirk's Church and Society Council, said: "I'm disappointed at the suggestion that religious representatives have a hidden agenda and seek to manipulate or undermine the democratic process."
She added: "Most people in the Church are driven by a primary motivation of love, to serve others for the common good.
"The Church of Scotland representatives are hardworking and dedicated people who put in long hours and bring a breadth of experience and knowledge of community and educational life which helps local authority committees come to decisions."
A spokesman for the Convention of Scottish Local Authorities (COSLA) said: "It is a matter for individual local authorities and besides that it is a requirement of the law."