Ethnic 'inequalities' in Scottish mental health care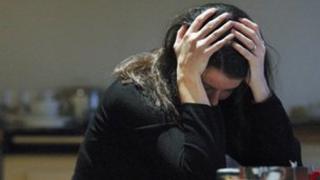 The number of people hospitalised in Scotland for mental health problems differs significantly between ethnic groups, research has found.
A team from Edinburgh University looked at hospital admissions for psychiatric, mood and psychotic disorders.
They said the findings suggested there were inequalities in the way mental health services were used by different ethnic groups.
The researchers called for a review of mental health services in Scotland.
The study, the first of its kind in Scotland, looked at hospital admissions for psychiatric disorders, mood disorders such as depression and psychotic disorders such as schizophrenia between 2001 and 2008.
The finding revealed that South Asian and Chinese people, in particular, were often very late into the system.
In most minority groups, people who went to hospital were shown to be significantly more likely to be treated under the mental health act.
'Social stigma'
Difficulties in diagnosing and treating mental illness among minority groups at an early stage could help explain the findings, the researchers said.
A lack of awareness of the support services available and a reluctance to seek medical help due to social stigma in minority groups may also have contributed, they added.
They said services should be reviewed to ensure all ethnic groups have access to the best preventative care and treatment at an early stage.
Dr Narinder Bansal, of the university's Centre for Population Health Sciences, said: "Studying ethnic variations in psychiatric hospital admission enables us to identify and monitor inequalities in mental health care.
"We hope that this study will inform politicians and doctors' decisions about how treatment is best delivered and planned for, to ensure equal access to early care.
"It is vital that mental health services meet the needs of Scotland's culturally diverse population."
The study, which was published in the journal Ethnicity and Health, was supported by the Scottish government's Chief Scientist Office, NHS Health Scotland and the Mental Welfare Commission for Scotland.
Public Health Minister Michael Matheson said: "There are a range of reasons why some people may experience more difficulty than others in accessing mental health services.
"These can include being less likely to try to access services due to stigma or lack of understanding of the services available.
"However, the Scottish government is committed to ensuring that everybody who requires support for their mental health and wellbeing should receive the right care and treatment."