Scotland bucks shop footfall trend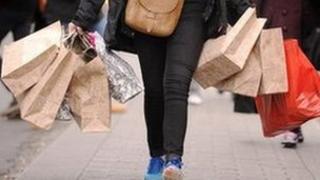 Scotland was the only part of the UK, outside London, to see a rise in shoppers in the past quarter, according to retailers.
Scottish stores saw a 1.7% rise in footfall between April and June compared with the same period in 2012, the British Retail Consortium said.
This contrasts with Northern Ireland which saw a 5.2% drop in footfall.
Every other region in the UK, except for a 3% rise in London, saw decreases over the three-month period.
Scotland saw a 3% year-on-year rise in footfall in May alone, slowing to a 1.2% rise by June.
Fiona Moriarty, director of the Scottish Retail Consortium, said: "With the improving weather in June, we saw an increase in footfall. This represents three straight months of growth in shopper numbers and Scotland's performance was slightly above the UK average.
"This encouraging trend backs up the figures that showed tentative growth in Scottish retail sales earlier in the year.
"Scottish retailers are continuing to have to work hard to tempt shoppers, however while customers remain careful with their money, we are seeing them respond to seasonal promotions and discounts."
The UK has also seen an overall trend for shoppers to move away from out-of-town shopping centres back to the High Street.
Diane Wehrle, retail insights director at Springboard, which carried out the research, said: "The High Street once again recorded a better footfall performance than shopping centres, with an annual increase in footfall of 1.4% in June, compared with a decline of 3% in shopping centres.
"Over the quarter to the end of June, high streets outperformed both shopping centres and out-of-town locations by a significant margin."