T in the Park arrests over flares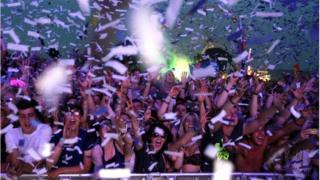 Five people have been arrested and ejected from the T in the Park music festival for possessing or using pyrotechnic flares.
Police said organisers had made it clear that flares, smoke canisters and smoke pellets would not be tolerated at the event.
Organisers DF Concerts said its priority was to keep people safe.
About 85,000 people are attending T in the Park, which is taking place at Balado near Kinross until Sunday night.
Police Scotland head of event planning Superintendent Rick Dunkerley said: "Flares are extremely dangerous and won't be tolerated at this event. Do not bring them, do not use them or you will be arrested.
"There have been 53 arrests in total made since the campsite opened on Thursday, mainly for petty crimes and minor drugs offences. We're delighted that so many fans have taken our advice and welfare messages on board in advance and we hope this continues.
"Additionally, we remind fans to stay together and look after each other and their possessions and have a safe day at the event."
In contrast to the muddy conditions of last year, festival-goers were again treated to pleasant temperatures, although not quite as warm as Friday.
Friday's soaring temperatures contributed towards the number of first aid incidents almost doubling in comparison to 2012 with sunburn and dehydration being the most common complaint, according to organisers.
Neil Gillies, of the festival's onsite medical services, said: "We've had 470 people present to the medical tent and the vast majority of those cases could have been prevented by people using sunscreen, drinking water and remembering their own medicines.
"We'd ask fans to look after themselves by refilling their water bottles at the free taps throughout the site, using sunscreen throughout the day and to bring their hay fever medication and inhalers with them to the site.
"Music fans don't want to be missing their favourite band because they've had to come and see us instead."
Rihanna headlines the main stage on Saturday.
She has a crew of 90 and her set-up has been transported in seven articulated lorries, compared with the standard two or three, according to event organisers.
Other musical tastes will be catered for throughout the day by the likes of Frightened Rabbit, Travis and Richie Hawtin.
Oasis offshoot Beady Eye head up the Radio 1 Stage and Mercury Prize winners Alt-J will close King Tut's Wah Wah Hut tent.