Plans for 'tougher' litter fines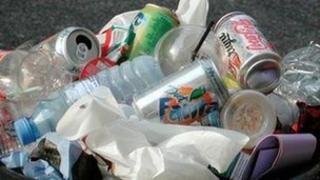 Tougher fines for those found littering and fly-tipping could be introduced by the Scottish government.
It says the issue currently costs the country about £70m a year to deal with.
Two separate consultations on land and marine litter have been launched by Environment Secretary Richard Lochhead.
They propose better education and increased recycling areas as ways to reduce litter. Plans also include increasing fixed penalty fines from £50 to £80.
Penalties for fly-tipping would be increased from £50 to £200 and waste dumped on industrial or business premises could result in a fine of £40,000.
Research by Zero Waste Scotland, a public body that works to prevent littering and increase recycling, found that £53m is spent clearing up litter across the country each year, with more than £16m spent in wildlife and cleaning costs along coastlines.
Litter has also been found to reduce property values, hit tourism and contribute to health issues, according to the report.
'Renewed impetus'
It also estimates that greater recycling of plastics and paper could actually be worth about £1m to the economy.
Mr Lochhead said: "For the first time we're able to put a price on the real cost of littering and with more than 250 million items of litter and over 60,000 fly-tipping incidents a year, we must all do more to tackle this problem.
"Binning waste is very easy to do but still half the population admits to littering and that's something we must tackle head-on.
"We are making recycling easier and encouraging people and business to take more care and responsibility."
Iain Gulland, director of Zero Waste Scotland, said: "We welcome this consultation bringing a renewed impetus to efforts to tackle litter and fly-tipping.
"We particularly welcome the focus on litter prevention given the cost of clean-up to the public purse."
The Towards A Litter-Free Scotland consultation runs until 27 September and the government plans to create a national litter strategy in parliament early next year.