Scottish government plans charge for plastic bags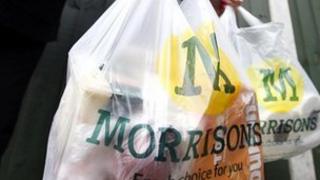 The Scottish government has confirmed it will introduce a 5p levy on plastic bags from October 2014.
Environment Secretary Richard Lochhead said the charge should reduce bag use in Scotland and raise £5m for good causes each year.
There are already charges on carrier bags in Wales, Northern Ireland and the Republic of Ireland.
The business organisation CBI Scotland said the move would mean "costly additional red tape".
Mr Lochhead said: "Discarded carrier bags highlight our throwaway society. We use more carrier bags per head in Scotland than any other part of the UK and this is unsustainable.
"Carrier bags are a highly visible aspect of litter and we are taking decisive action to decrease their number. By reducing the amount being carelessly discarded we can cut litter and its impact on our environment and economy.
"A small charge should also encourage us all to stop and think about what we discard and what can be re-used."
The measure will not raise revenue for the government. Instead, the money raised will go to good causes.
Mr Lochhead added: "This charge is not a tax but will see retailers donating the proceeds to charity - this could be up to £5m per year after retailers have covered their costs."
Iain Gulland, the director of Zero Waste Scotland, said: "We can all reduce the impact of carrier bags by making sure that when we must take one, we re-use it over and over again as many times as possible and then recycle it at the end of its life."
Retailers have expresses their concern about the impact of the charge.
A CBI Scotland spokesman said: "Modest economic growth coupled with a continuing shift to internet shopping is making conditions challenging for the high street, which is already feeling the ill-effects of the Scottish government's £95m retail rates surcharge and its £36m rates levy on empty shops and other premises.
"The plans for costly additional red tape in the form of an environmental levy on carrier bags, after significant success recently in reducing the use of plastic bags by voluntary means, will only make a difficult situation even tougher for retail businesses."
There was a cautious response from the Scottish Retail Consortium, which claimed carrier bag use has already fallen by 40%.
Director Fiona Moriarty said: "The Scottish government has decided that it wants further and faster reductions and the only way it can achieve this is through legislation.
"However, it is our view that if we focus solely on plastic bags we are in danger of being distracted from much larger and more important issues around waste.
"The SRC will be working with the Scottish government to ensure that the legislation is proportionate and as far as possible consistent across the UK to avoid confusion for customers and businesses."