More Scots school leavers staying in education, training and employment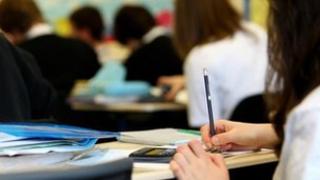 More school leavers in Scotland are staying in employment, training and education, according to new figures.
Scottish government statistics showed almost 90% of leavers were still in "positive destinations" nine months after finishing school.
There was also a rise in the numbers attaining one or more qualifications at Higher or Advanced Higher level.
The Scottish government said work to support young people into education and employment was "paying off".
The publication of the latest figures coincides with a separate international report by the OECD economic think tank.
It said the "biggest challenge" for the UK was the "significant" numbers of youngster outside education, work or training.
According to the OECD's figures for 2011, people aged between 15 and 29 in the UK spend on average 2.3 years unemployed, compared with 1.7 years in Germany and 1.1 years in the Netherlands.
Seeking work
However, the latest Scottish government figures suggested that the number of young people staying in employment, training or education after leaving school had increased to record levels.
Of those who left school in 2012, 89.5% were recorded as remaining in employment, training or education in March 2013, compared with 87.2% the previous year.
The figures showed 55.8% of pupils left school with one or more Highers or advanced Highers in the year 2011/12, compared with 52.5% the previous year.
The proportion leaving school without a qualification at Standard Grade Foundation level or above dropped from 2.1% to 1.7% in 2011/12.
Youth Employment Minister Angela Constance said: "Record levels of young people going into and remaining in positive destinations is great news for Scotland's economy, our employers and our young people themselves.
"More have gone into training and further and higher education, demonstrating that the need to give themselves the best possible chance of being work ready is understood better than ever, especially as the difficult economic climate continues.
"Following considerable efforts by the Scottish government and its public, private and third sector partners, we are also seeing a series of very positive job figures - showing that our work to support young people into employment, including a unique guarantee of an offer of a place in education or training for 16 to 19s, is paying off."
She added: "However, we are not resting on our laurels. One young person moving straight from school into unemployment is one too many, and work will continue to help these young people maximise their potential."
'Pay slippage'
Meanwhile, Scotland largest teaching union, the EIS, has highlighted issues over teachers' pay and conditions raised in the OECD's annual review of education.
The OECD found that the average pay of Scottish teachers at the midpoint in their career had fallen.
In Scotland, the average salary of a teacher with 15 years experience in 2011 was lower that that of their counterparts in other developed countries six years earlier.
General secretary Larry Flanagan said: "While Scottish education continues to fare well in international comparisons, the OECD report has highlighted some interesting data on Scottish teachers' working hours and pay.
"Teachers in Scotland continue to work some of the longest hours in comparison to colleagues in other OECD countries, including a very high teaching hours commitment spent in front of the class.
"The report also highlights the real-term pay slippage that Scotland's teachers have experienced from 2005 onwards - something that employers will require to address to ensure that teaching remains an attractive profession for highly qualified graduates in the future."
A Scottish government spokesman said: "We are aware of the concerns expressed by teachers over their workload. To build on a range of support materials to assist with the implementation of Curriculum for Excellence, the cabinet secretary has made it clear that unnecessary paperwork must be brought to an end.
"A new pay deal for teachers is currently under consideration by the Scottish Negotiating Committee for Teachers, which includes representation from the Scottish government, local authorities and unions."