Children's caffeine intake 'should be controlled'
Tighter controls are needed to prevent children consuming high-caffeine energy drinks, a BBC investigation has heard.
Professor Mike Lean, an expert in nutrition, said children should be banned from buying highly-caffeinated drinks in the same way as alcohol.
Manufacturers representatives have said youths should not be drinking them.
But research for the European Food Safety Agency suggested more than two-thirds of the UK's 10 to 18-year-olds have drunk high-caffeine energy drinks.
Caffeine is defined as a drug because it stimulates the central nervous system.
In both children and adults, too much caffeine can cause difficulty concentrating and sleeping and increased heart rate.
There are concerns about the cumulative affects of caffeine, which is a psychoactive drug similar to other stimulants such as nicotine, on brains which are still immature.
Prof Lean, from the University of Glasgow, said: "If we're serious about recognising the potential hazard of high-caffeine drinks for children, then we should certainly be putting obstacles in the way of children getting them.
"For example, children going into a shop to buy alcohol is forbidden because it's bad for them and they're not permitted to drink it. Perhaps the same sort of approach should be used for highly-caffeinated drinks."
Industry guidelines say under-16s should not consume drinks with a caffeine level of 150mg per litre or more.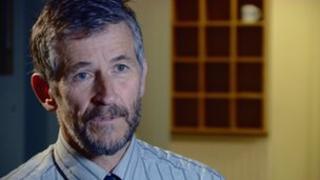 Gavin Partington, of the British Soft Drinks Association, the body representing manufacturers, told BBC Scotland Investigates: "Well, our guidelines are very clear. The guidelines relate to products that contain high caffeine content, that is over 150 milligrams per litre of product, and they stipulate that they should not be sold to or consumed by children.
"So it's a very clear form of guidance, and we hope as many people as possible will bear that in mind when looking at these products."
The BBC programme, called Caffeine Nation, also looks at whether children are being encouraged to consume energy drinks by marketing surrounding high-profile extreme sports.
On a visit to the UCI Mountain Bike World Cup in Fort William last month, the documentary team observed several children drinking Monster, an energy drink sponsoring the event.
It contains about 160mg of caffeine per can.
One boy, Ewan Farr, who was seen with a can of the drink, said he had been given it for free by the sponsor's team at the event. The 11-year-old said it made him "hyper."
'Cool factor'
His dad, Gavin, said: "At an event like this they are giving them away free - there's a very strong association with the brand - you see all the riders going about.
"There's no doubt they are going for the cool factor. And all you need to do is see the kids queuing up inside and there's fridges full of free drink. And I think it would be incredibly naive of the brands to suggest that under-16s aren't drinking these things when you come to an event like this that's plainly ludicrous.
"I think they're going for the youth market because that's where you hook them. So that seems quite naïve to me."
In a statement, Monster's managing director for Europe, Middle East and Africa, Guy Carling, said: "While our company is not a member of the British Soft Drinks Association, certain of our policies mirror theirs in that we do not sample our products to persons under 16 years of age.
"Additionally, all of our cans carry a warning that they are not recommended for children, pregnant or breastfeeding women, or people sensitive to caffeine.
"Since receiving your inquiry, I have asked both our marketing and personnel departments to investigate what happened at the event in Fort William, Scotland, to find out if and why our policy was violated.
"Monster Energy beverages were also being sold at the venue and our teams have no control over who actually purchases the products directly from the venue. If we establish that our policy was violated, we intend to take appropriate action against the individuals.
"Additionally, we are evaluating the introduction of additional procedures to ensure that future violations do not occur."
BBC Scotland Investigates: Caffeine Nation is on BBC1 Scotland on 10 July at 19:30, and is available across the UK on the iPlayer for a week afterwards.