Five Syrians on 'fire-threat' flight seek asylum in UK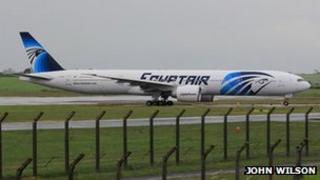 Five passengers from an Egyptair flight which was diverted to Prestwick airport on Saturday did not reboard the plane when it resumed its journey to the US.
Police Scotland said the passengers, understood to be Syrian, claimed asylum and were being dealt with by the Home Office.
The flight from Cairo to New York was escorted to Prestwick by fighter jets, after a note with a threat to set the plane on fire was found in the toilet.
In total, 326 passengers were on board.
They were taken off the plane to be questioned by police while the aircraft was searched. But no arrests were made and when nothing was found on the plane, it was cleared to resume its journey early on Sunday morning.
A spokeswoman for Police Scotland said five people did not get back on board, and claimed asylum in the UK.
Speaking from Cairo, the chief executive of Egyptair identified the five people as Syrians.
The Home Office said it did not comment on individual cases. The whereabouts of the five passengers is not known.