Joint study shows extent of Scottish under-employment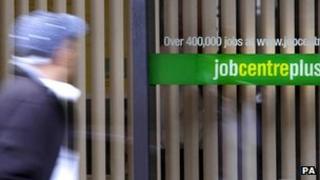 The extent of under-employment in Scotland has been revealed in a study published by the Scottish government.
An analysis jointly prepared with the STUC shows more than 250,000 workers want to work longer hours.
That is a rise of 80,000 on 2008, before the downturn got under way. That makes 256,000 people, or more than 10% of the entire workforce.
Many are working part-time and want a full-time job or more hours. Some are full-time and would like extra hours.
The largest rise within this group was among private sector women in permanent roles. Those aged between 16 and 34 represented more than half the increase in private sector under-employment.
The figures probably understate the extent of under-employment, as they fail to capture the large number of people - and particularly recent graduates - who have not found jobs that match their skills.
The employment data shows there was a drop of 92,000 full-time jobs since the downturn began in 2008.
There has, however, been a significant improvement in the past year, adding 41,000 full-time jobs. That improvement has been particularly marked in the past two months of data from the official and regular Labour Force Survey.
The Scottish government highlighted comparison with the UK figures, which currently show Scottish employment better placed than the UK as a whole, while unemployment is lower, and so is the share of working age people who do not count themselves as available for work.
The analysis of official data also underlines how much earnings have dropped since the downturn began.
It shows hourly earnings in Scotland have fallen 8.1%, in real terms at 2012 prices. The UK average has been a decline of 8.3%, with the biggest drop, at 9.9% in south-west England and Northern Ireland, and the smallest fall in south-east England, at 6%.
Between 2008 and 2012, earnings dropped more for part-time workers, down by 8.7% to a median £11.50 for men, and down 8.4% for women to £10.29.
Full time median hourly earnings reached £16.12 for men, and £13.78 for women.
In addition, the assessment of labour market changes sets out how self-employment has risen, particularly among men.
The most recent figures show just over 300,000 self-employed workers in Scotland - one eighth of the workforce. While the number of employees has declined by 97,000 during the downturn, the number of self-employed people is up 33,000.
There has been a rise in the number of self-employed women of 17%, reaching 94,000, while the number of self-employed men is up 10% to 207,000.
Nearly four out of every ten people working over the age of 65 are self-employed, and 16% of those aged 50 to 64.
John Swinney, the Finance Secretary, drew attention to a section of the research on youth employment: "Our joint analysis of labour market statistics shows that Scotland is leading the way when it comes to youth employment and meeting Modern Apprenticeship targets, with 96% of employers reporting that Modern Apprenticeship completers are better able to do their job.
"However, we realise there is still lots to be done and this research is crucial in revealing which areas of society need the most help in terms of employment.
Stephen Boyd, of the STUC, commented: "While the research correctly describes the recent improvement in the Scottish labour market, it also draws attention to trends that are often overlooked such as high under-employment and falling real wages".