Scottish teacher job prospects continue to improve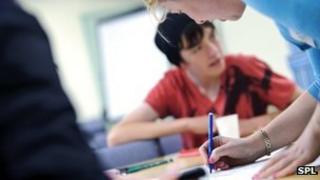 Almost half of newly qualified teachers have found full-time permanent jobs since August, according to research.
The General Teaching Council for SCotland (GTCS) poll of probationer teachers said 45.1% had found permanent posts, compared with 24.9% a year ago.
Those with temporary full-time contracts fell from 34.2% to 24.5%.
The figures suggested employment rates were the best since 2006-07. However, GTC admitted the latest data was based on a poor response rate of 16.4%.
Only 306 teachers out of a possible 1,863 responded to the Spring 2013 survey.
'Hugely talented'
GTC chief executive Anthony Finn said: "Overall employment prospects both permanent and temporary continue to improve for our new teachers.
"The response rate to this survey is disappointing but the information gathered is broadly representative of the profession in terms of age, gender and sector and, therefore, provides us with useful information about the employment prospects of our probationer teachers.
"While we must treat these figures with caution, it would be prudent to acknowledge the data we have collected.
"What is not in doubt is the quality of new teachers coming into the profession.
"These probationers are hugely talented and are committed to developing their skills to offer the highest quality learning opportunities to our children and young people."
Teacher numbers deal
The EIS teaching union attributed the improvement in job figures to the deal it forged with the Scottish government on teacher numbers.
In 2011 it agreed the minimum number of teachers in Scotland should be 51,131.
The improvement has also been linked to a sharp cut in the number of training places a few years ago - and to a big rise in the number of teachers retiring.
Over the past two years, and continuing into next year, the number of teacher training places has been increased by a total of 1,000.
The EIS welcomed the improvement in job prospects, but said more needed to be done to help teachers who did not secure stable and secure employment.
EIS General Secretary Larry Flanagan said: "A further area of related concern is the dwindling number of supply teachers working across Scotland.
"The previous changes to supply teacher pay and conditions clearly have had a detrimental impact on the availability of supply teachers, a vital part of the education service, and the issue needs to be revisited."
The GTC Scotland carries out a survey of probationers every year and reports its findings to the Scottish government.