'Tent' among 12 Scottish architecture award winners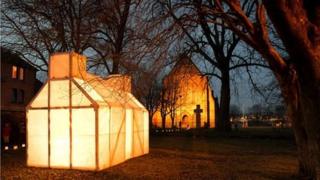 A structure which existed for just one night is one of 12 new buildings to be named the best in Scotland.
The Ghost of Water Row, designed to recall Govan's weaving trade, won the accolade along with projects including Aberdeen University's £30m library and a turf-roofed house on Skye.
The Royal Incorporation of Architects in Scotland (RIAS) awards recognise architectural achievement in Scotland.
All 12 will now compete for the Andrew Doolan Best Building in Scotland Award.
Iain Connelly, President of the RIAS, said: "The 75 submissions from throughout Scotland, ranging in cost from zero to over £30m is a tremendous vote of confidence.
"It absolutely confirms that this award, in only its second year, is now the single most important recognition of architectural achievement in Scotland."
In contrast to the Ghost of Water Row, described as a fleeting pavilion designed to appear in the dark and disappear again by daylight, the Sir Duncan Rice Library in Aberdeen was conceived to mark the ice and light of the north.
And while Edinburgh University's Chapel of Saint Albert the Great was built in the small garden plot of a townhouse, Forth Valley College of Further and Higher Education sits in an expansive landscape setting.
Other public buildings among the winners were The Beacon Arts Centre in Greenock, Shetlands Mareel arts centre and Dunfermline High School.
A number of private homes were awarded, including the reworking of a 1970s house in Lenzie, a former croft on the Isle of Lewis, and a converted church on the remote island of Berneray.
The RIAS teamed up with Forestry Commission Scotland and Wood for Good, as well as Historic Scotland and Zero Waste Scotland, to create three sub-category awards.
Dunfermline High School was also recognised for its resource efficiency, while fellow winner WASPS South Block won the conservation and climate change award.
The winner for the best use of timber went to Abbotsford Visitor Reception Building in Melrose, designed by LDN Architects.
The RIAS Andrew Doolan Best Building in Scotland Award is to be presented on 7 November 2013 at the Scottish Parliament.