New offshore wind subsidies welcomed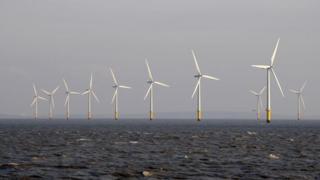 The introduction of new subsidies for offshore wind power projects by the Scottish government have been welcomed.
Energy Minister Fergus Ewing said the move would "help bring down the cost of developing offshore wind in our deeper waters".
One of the new subsidies aims to support the generation of electricity from offshore tests and demonstration sites.
The other will provide financial support for pilot projects.
The two new bands are to be created for the Renewable Obligation Certificates (ROCs) scheme, which provides financial support for green energy projects.
Lindsay Leask, senior policy manager for industry body Scottish Renewables, said: "By investing in offshore test and demonstration sites now, we will have a greater chance of leading the global race to develop next generation offshore wind technologies."
Fossil fuels
Mr Ewing said: "Renewables have a significant role to play in Scotland's future electricity mix.
"These technologies are needed to help decarbonise our electricity system, increase energy security and reduce dependence on expensive and depleting fossil fuels.
"Introducing these two new bands for offshore wind shows our commitment to support these technologies at the right levels, and in a way which limits the cost to consumers."
Lang Banks, director of environmental charity WWF Scotland, also welcomed the new subsidies, saying: "It's an announcement that potentially puts Scotland at the head of the pack in global terms."
The plans are to be announced by Mr Ewing in November at the Renewable UK conference in Manchester.