10 things about the Common Ridings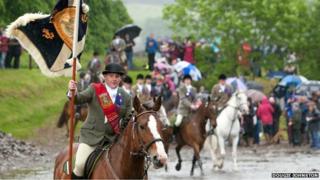 The Borders Common Riding season is under way. But what is it all about? Here are 10 things you need to know.
1. The Borders: It's aye bin
A Lowland Scots saying sums up the Scottish Borders: "It's aye bin", meaning "It's always been". The old Border country's Common Riding traditions have evolved over 900 years into one of Europe's biggest equestrian spectacles. Yet the 11 towns' annual festivals are little seen or understood by the outside world, which obliviously drives through - north to Edinburgh or south to England. So we just get on with our own thing, in a land time forgot. Every week from June to August without fail, thousands of Borderers cheer hundreds of horse riders galloping around their towns, and witness curious rituals like snuff thrown from a window in Hawick, or, in Langholm, a salted herring hammered to a barley bannock with a 'twal-penny nail'. Why? Well, it's emotional, and never more so than this year, when townsfolk remember their fallen exactly 500 years after the Battle of Flodden in 1513.
2. Safe oot, safe in
The Border Common Ridings, like others in Scotland surviving in Langholm, Biggar, Lanark, Musselburgh and Linlithgow, began early in the 12th century as 'Riding the Marches', when young burgesses on horseback inspected their burgh's common land to check neighbouring landowners had not encroached its boundary. Townsfolk needed this 'commonty' to graze livestock and grow harvests to survive and prosper, so any unlawful houses, walls or crops were destroyed, often by 'the haile community'. Riding the Marches flourished in Glasgow, Edinburgh, Aberdeen, Stirling, Dundee, Inverness and Arbroath between the 16th and 18th centuries too, but they endured in the Borders long after they ceased to be essential. The reason why the Scottish Borders continues these 'marches of history', and has became known as the 'home of the ridings', is rooted in the wars between Scotland and England, and the badly-behaved Border reivers.
3. Britain's wild west
As a local walking festival advert once put it: '500 years ago visitors didn't walk in the Borders - they ran for their lives'. Sandwiched on the frontier between two battling kingdoms, the lawless Border valleys became our island's bloodiest - our very own 'Wild West'. Border reivers were no more than mafia gangsters on horseback, loyal not to their king but to their 'family' (not 'clan'). Scott, Kerr, Nixon, Armstrong and Elliot were among the hundreds of families who raided, robbed, kidnapped and murdered each other, and their tribal English rivals. This criminal society 'shook loose the border', where national feelings became almost meaningless. The reivers (from the old Scots 'to steal') bequeathed the words 'bereave' and 'blackmail' to the English language, but, more positively, the insecurity of life endowed each Border community with a fiercely independent identity, loyalty, and rivalry, asserted with civic pride every year in their distinct Common Riding traditions.
4. Stoorifits and gutterbluids
In Peebles people divided into 'gutterbluids', the town's established natives, and 'stoorifits', the resident incomers. Borderers still feel an intense belonging to their town, thanks to the notorious reivers. The uncertainty and dangers of living in a tribal territory ungovernable by Edinburgh or London, close to a shifting Anglo-Scots border and marauding armies, only worsened the threat to the isolated Border burghs. Townsfolk were forced together for mutual survival and defence, creating close-knit communities with a sense of shared responsibility. Riding the marches, the vigilant cavalcades risked their lives protecting their land and people: Selkirk's first provost John Muthag, plus his bailie James Keyne, were murdered defending the burgh lands in July 1541. The Royal and Ancient Burgh named Muthag Street in his honour during the World War I - a conflict, like Flodden, from which many young 'Souters o' Selkirk' failed to return. Today's common ridings attract thousands of locals and 'exiles' or 'colonials' coming home to pay tribute to the sacrifices and labours of those who have gone before.
5. The Battle of Flodden, 1513
While all Common Ridings share this element of riding round the town boundaries, harking back to the ancient Riding of the Marches, the traumatic defeat at Flodden field on 9 September 1513, when an estimated 10,000 Scots and King James IV lost their lives fighting Henry VIII's English army under the Earl of Surrey, still resonates emotionally in Selkirk and Hawick's traditions, and in the modern Coldstream Civic Week. As Border bard Sir Walter Scott wrote of Flodden in his 1808 poem Marmion: "Tradition, legend, tune, and song / Shall many an age that wail prolong." Coldstream Civic Week stages a spectacular, moving ride out to the battlefield itself, just over the Tweed and the English border at Branxton, where the 'Coldstreamer' lays a wreath at the Flodden Memorial. Selkirk's 'Royal Burgh Standard Bearer' represents Fletcher, the only Selkirk man to return from Flodden alive, while Hawick Common Riding recalls Flodden's aftermath in 1514, when Hawick lay at the mercy of triumphant, pillaging English soldiers. A handful of callants defended the town by slaying an English raiding party at Hornshole, and their captured flag (or a replica) has led the town's marches ever since. But surprisingly, despite the Borders' turbulent history, there is never any anti-English feeling in the Common Ridings. That's not what they're about at all.
6. Jethart's here!
The Border Common Ridings are a complex subject, having developed different traditions and meanings over a long time. The oldest festivals in Selkirk, Hawick, Lauder, and Langholm in Dumfries & Galloway, have an uninterrupted history since the original riding of the marches, but inspections of the boundary are now symbolic, often marked by the principal cutting a sod of turf. The newer ride-outs in Galashiels, Jedburgh, Melrose, Kelso, Coldstream, Duns and Peebles, all about 100 years old, are based on proud events in each town's history. Peebles Beltane Festival revives a medieval summer fair, Galashiels' Braw Lad and Lass ride to Gala's first parish church, and the Duns Reiver's cavalcade rides to Duns Law, where General Leslie's Covenanting Army camped in 1639 to resist Charles I's imposing the Church of England on Scotland. Jedburgh (or Jethart) Callants' Festival re-enacts one of the last battles between England and Scotland, the 1575 Raid of Redeswire in the Cheviot Hills, won when notoriously fierce Jed men arrived, shouting their war cry 'Jethart's here!'. In 1523, the terrified younger Earl of Surrey, son of the Flodden hero, called Jed's fighters: "the boldest and hottest men that ever I saw in any nation".
7. Rally roond oor Cornet!
Every spring a 'principal' is democratically elected by townsfolk, or nominated by ex-principals, to be the symbolic leader of the year's riding, honoured with carrying the town's flag. In the 'Honest Toun' of Musselburgh, it is said the election of the 'Honest Lad' attracts more votes than a General Election. The principal, usually an unmarried, native lad of admirable character and riding skills, is given a different name in each town: Reiver (Duns), Braw Lad (Galashiels), Cornet (Hawick, Langholm, Peebles, Lauder), Kelsae Laddie (Kelso), Melrosian (Melrose), Royal Burgh Standard Bearer (Selkirk), Whipman (West Linton), Jethart Callant (Jedburgh) and Coldstreamer (Coldstream). Becoming 'king for the day' is the greatest honour a young man can receive from their town, and almost certainly it is the proudest and most memorable day of their young lives: "a dream come true," many report. "Common Ridings are all about emotion," Gala rugby commentator Richie Gray coached Hawick Cornet Chris Ritson this year in 'The Hut', where Hawick horsemen drink rum and milk, and sing Hawick's song 'Teribus' from the burgh's battle cry 'Teribus ye teri odin', which gives local folk their name 'Teries'. Nearing the end of his big day, at the relaxing horse races up the moor, which often follow the riding of the marches, Cornet Ritson described the overwhelming emotion as best he could in Lowland Scots: "It's better felt than telt."
8. Unsullied and untarnished
The flag, which symbolises the town and its honour and traditions, is revered like a holy relic. At a 'Colour Bussin' ceremony early on Common Riding morning in Selkirk (or "the nicht afore the morn" in Hawick) the cherished banner is presented to the principal by the provost, who wishes the riders "safe oot, safe in" around the marches, and charges him to return it "unsullied and untarnished". A Lady Busser (or the Cornet's 'Lass' in Hawick) ties ribbons in the principal's chosen hues to the Royal Burgh Flag, recalling the ancient custom of a knight's lady tying colours to his lance before battle. Traditionally principals are unmarried, perhaps because riding the marches was a dangerous business, or it symbolises they are 'married' to the town while in office, like a priest to the church. Some of Selkirk's Royal Burgh Standard Bearers have remained bachelors for more than a dozen years waiting their turn to bear the Royal Burgh Flag. Hawick's swallow-tailed 'Banner Blue', inscribed in yellow '1514' and 'HC' standing for 'Hawick Colour', is a replica of the English original seized by Hawick callants at Hornshole in Flodden's aftermath 500 years ago. Losing your flag to the enemy was a humiliating blow, and many Border legends revolve around captured banners: Jedburgh's guild of weavers claimed to possess an English standard from Bannockburn (1314), and a Highland one from Killiekrankie (1689). To help the principal perform his duties, he is helped on the ride-outs and charging 'chases' by Right- and Left- Hand Men (often aspiring, or ex-principals), and in Hawick by an older married 'Acting Fither', to keep a friendly paternal eye on youthful spirits.
9. This day, we hae done a guid thing!
Common Riding day traditionally begins in the very early morning, testifying to the pre-industrial origins of the ridings. Hawick begins with the 'Snuffin'': a curious custom seeing boisterous callants scrum to pinch handfuls of snuff from a ram's horn, harking back to the days when troops were given snuff before going to war. A horse was like a car to a Border reiver: fast transport for a speedy getaway, and a powerful status symbol. The reivers' deep rapport between horse and human remains in the Borders, today called 'Scotland's horse country'. Ridings also survived here thanks to the countryside's accessibility, only a few minutes walk from town centres, which means Borderers can keep horses cheaply and easily, often riding from an early age down quiet lanes and streets, to turn into talented and experienced adult horsemen. "I've been riding since I could walk," says 28-year-old Selkirk's Royal Burgh Standard Bearer Martin Rodgerson, who has so far ridden 21 Common Ridings - the first aged four. Even practice rides, called 'ride outs', require stamina: Hawick's moorland Mosspaul 'ride-oot' measures 24 miles, while Jedburgh's Redeswire ride is a 25-mile return journey to the site of a skirmish on the Anglo-Scottish Border.
10. Huzza!
And finally, as Langholm's Fair Cryer says as he nails a fish to a bun: "I'll away hame and hae a bannock and a saut herring to my denner by way o' auld style. Huzza! Huzza! Huzza!" But before I ride hame for ma rum and milk, here's how the Border common riding dates are calculated every year:
Hawick (Thursday, Friday and Saturday after the first Monday in June)
Selkirk (Friday after the second Monday in June)
Melrose (Third full week in June)
Peebles (Third full week in June)
Galashiels (End of June, sometimes the first weekend in July)
Jedburgh (Ends second Saturday in July)
Duns (First full week in July)
Kelso (Middle of July)
Langholm (Last Friday in July)
Lauder (Ends first Saturday in August)
Coldstream (First full week in August)