Scotland 'moving away' from formal exams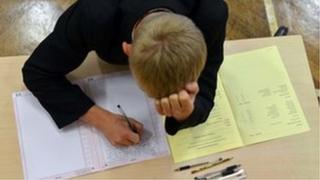 Right back to the founding of the first universities in the 15th century Scotland has had its own educational traditions.
Today Scottish state schooling remains distinctive. Instead of GCSEs and A levels, the main qualifications are Standard Grades and Highers.
Standard Grades were introduced during the 1980s, with pupils sitting their exams at the age of 15 or 16 having studied for them in third and fourth year.
Some pupils would then go on to take Highers, usually in fifth year after a further year's studying. Advanced Highers could follow in sixth year.
In recent years some schools, notably those in East Renfrewshire, chose to present their pupils for the Intermediate qualification, rather than Standard Grades.
But for the past decade Scotland's education system has been undergoing a radical redesign, known as the Curriculum for Excellence, and by the end of this summer the Standard Grade will be no more, going the way of its predecessor, the O-Grade.
Intermediates are also being phased out.
Instead pupils will now be given what is being described as a "broad general education", with no exams, in their first three years of secondary school.
Then, in fourth year, they will be able to study for the new National 4 and National 5 qualifications.
National 4 will be assessed on class work alone.
National 5 will be assessed on both examinations and class work.
Changes for fifth and sixth years will come next with redesigned Highers being introduced in 2014/15 and Advanced Highers in 2015/16.
The Curriculum for Excellence's emphasis on continuing assessment rather than formal exams contrasts with the message in England from Whitehall's Education Secretary Michael Gove.
Scotland's biggest teachers' union, the EIS, told the BBC there was "little enthusiasm" for any suggestion that Scotland should follow a similar path to that being promoted by Mr Gove.
Effective learning
A spokesman for the union said the Curriculum for Excellence was popular with staff and parents because it would free up teachers and make learning more accessible and relevant.
"Over-prescription by government and an over-reliance on testing runs contrary to effective learning and teaching," he added.
There has been some criticism of the new curriculum, mainly from teachers who say they are not ready for it and from others who say it is vague.
There are also worries that students may be forced to cram serious study of up to eight different subjects into just one year for their Nationals and confusion about when pupils will select the courses in which to specialise.
But the Scottish government insists the Curriculum for Excellence "goes beyond a narrow focus on exams" and gives teachers flexibility to deliver a "broad and deep general education" from the age of three until the end of third year, aged 14 or 15.
Ministers insist it will lead to more joined-up learning between subjects.
They also argue that it will retain a strong focus on literacy and numeracy while at the same time preparing young people for the world beyond the classroom by helping them develop skills such as problem solving, critical thinking and teamwork.
Whatever the truth, it is clear that it's not just England which is undergoing radical change in education.