Scotland should be 'must visit' for cycle tourism says report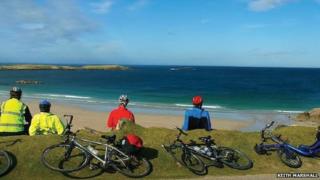 Cycle tourism is worth up to £239m per year to the Scottish economy, according to a new report.
Campaign group, Transform Scotland, has been looking at the economic value of residents and visitors involved in touring and leisure cycling.
It wants Scotland branded as a "must visit" destination for cycle tourism.
Its report is published as Transport Minister Keith Brown heads to the Netherlands to see first-hand the cycling infrastructure there.
The Value of Cycle Tourism report, commissioned by Sustrans Scotland, sets out recommendations for unlocking the economic potential of leisure cycling, including promoting it to a wider range of groups and supporting marketing of routes particularly in rural areas of Scotland.
Family day-trips
The report said there is "massive scope" for growth.
Transform Scotland examined existing research and carried out a business survey.
The study identified four major areas of economic contribution from cycle tourism in Scotland with their combined values ranging between £117.2m and £239m per year, depending on the source used.
The four areas were health benefits (said to be worth £4m), leisure cycle events (£5.6m), leisure cycle-related infrastructure (£1.5m) and expenditure by cyclists (worth between £106.2m and £228.2m).
Leisure cycle tourism was also found to contribute £58.5m to the Gross Value Added (GVA) of Scotland.
Transform Scotland director Colin Howden said: "From family day-trips to one-day cycle events to long-distance tours, it's clear that leisure cycling makes a significant economic contribution.
"While Scotland has built up a reputation for mountain biking, much more could be done to brand Scotland as a 'must-visit' destination for cycle tourists and leisure trips.
"There is substantial room for growth in touring and leisure cycling and with appropriate promotion it could make an even greater contribution to Scotland's economy."
Themed tours
The report made 10 key recommendations including delivering better collaboration among local/regional stakeholders, branding Scotland as a top destination for cycle touring and focusing promotional activities on key market segments.
It also highlighted the idea of themed cycle tour opportunities taking advantage of other Scottish tourist attractions including whisky and castles.
It said: "New Zealand, California, South Africa and France link their wine regions' already established wine production reputation with cycling.
"Cycle routes developed around a specific theme can help create a brand and wider recognition of the area, and assist in reaching new markets that are not already engaged in leisure cycling.
"A natural association in Scotland would be to use its worldwide recognition as the birthplace of whisky, along with several other strong touristic associations with rural Scotland, such as culture (castles) and wildlife (birds), amongst others."
Transport Minister Keith Brown is meanwhile due to meet with Dutch cycling experts in a visit to the Netherlands arranged by the Dutch embassy.
It follows the Love Cycling, Go Dutch conference held in Edinburgh last year which discussed ways of improving cycling safety.
Mr Brown said: "I am hoping to bring back many of the lessons learned from this visit and discuss these further with the cycling community and local authorities back home in order to improve and promote bike use across Scotland."
Commenting on the cycle tourism report, he added: "Transform Scotland's report highlights how important cycling is to our tourism economy.
"Our natural environment is the number one reason why people visit Scotland and the Scottish government is committed to making it as accessible as possible, which is why we are investing £3m over this year and next in the Oban to Inverness cycle route."
Dr Mike Cantlay, chairman of VisitScotland said: "Cycle tourism development will benefit the Scottish economy by bringing more visitors to destinations across Scotland and encouraging engagement with local businesses along the cycle routes, for example accommodation providers, event organisers, cycle tour operators and food & refreshment facilities.