Alan Cumming and Blythe Duff win best actor awards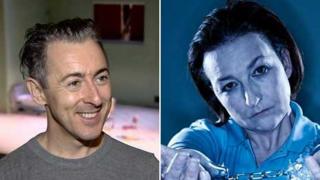 Hollywood actor Alan Cumming and former Taggart star Blythe Duff have picked up the best actor awards at the Critics' Awards for Theatre in Scotland (CATS).
Cumming won for "an unforgettable, bravura performance" in the National Theatre of Scotland's one-man Macbeth.
The Perthshire-born actor, who had previously won a Tony award on Broadway, said Macbeth was "the thing I am most proud of in my whole career".
Duff won her award for playing a convicted husband-killer in Iron.
The 2013 CATS were presented by one of Scotland's leading playwrights, John Byrne, at a sell-out event that also marked the 50th anniversary of the Traverse Theatre.
The special CATS Whiskers award was given to the inaugural artistic director of the National Theatre of Scotland, Vicky Featherstone.
It recognised her contribution to Scottish theatre in the seven years since the National Theatre company was formed.
Ms Featherstone, who stood down from the role earlier this year, said the years she spent with the National Theatre of Scotland were "an extraordinary period in my life and one which will always have a special place in my heart".
The CATS ceremony honoured nine different productions in 10 awards.
Theatre company Stellar Quines picked up the Best Production Award for The List, Perth Theatre scooped Best Director and Best Ensemble awards for The Seafarer and Rob Drummond won the Best New Play Award for Quiz Show.
The one-man Macbeth by Cumming, who has starred in Hollywood movies such as X-men 2 and US TV drama The Good Wife, was described by the judges as "one of the most memorable moments in Scottish theatre this year".
Perfectly formed
Speaking from New York, where the play is currently running, Cumming said: "I'm very grateful to the Scottish theatre critics, especially as Macbeth is the thing I am most proud of in my whole career.
"Thank you very much, it really means a lot to me for something I feel so proud of to be honoured by my country."
Duff won her award for playing husband-killer Fay Black, who was portrayed meeting her estranged daughter for the first time in 15 years.
The judges said she gave a "thrillingly ambiguous and unsentimental performance in which she never let us be certain whether she was an innocent victim or a calculating psychopath".
The Stella Quines production of The List, starring Maureen Beattie, was described as "a production that was perfectly formed in every delicate detail, like a Faberge egg".
Perth Theatre's production of Conor McPherson's The Seafarer won a Best Director Award for Rachel O'Riordan, cementing her position as one of the finest and most visionary directors in the country.