Hospital 'action plan' to improve dementia care in Scotland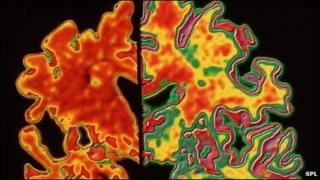 A plan to improve care in hospitals has been included in an updated version of Scotland's dementia strategy.
The Scottish government set out national care standards in 2010 and has reviewed progress to create new guidelines.
These include work to maintain the dignity of patients during hospital stays and named support workers.
There are about 86,000 people in Scotland with dementia, mainly with Alzheimer's disease.
Health Minister Alex Neil outlined the next phase of the strategy at Alzheimer Scotland's annual conference in Glasgow.
The hospital action plan aims to prevent people with dementia going into hospital unnecessarily, ensure they get better care when in hospital and are helped to get home as quickly as possible once they are ready to leave.
The government said there were now more than 300 dementia champions, Alzheimer Scotland Dementia Nurses in health boards and national standards of care in Scotland.
Mr Neil said: "Everyone diagnosed from 1 April this year is entitled to a named support worker to help them and their families understand the illness, manage its symptoms and plan for future care, described as a 'world-leading' commitment by Alzheimer Scotland.
"However there is still more to do, including improving care in general hospitals.
"We will support health boards, the Alzheimer Scotland Dementia Nurse Consultants and the 300-plus dementia champions now trained to ensure that, when admission to acute general hospital is unavoidable, people with dementia receive the dignity, respect and care they're entitled to."
'Human cost'
Henry Simmons, chief executive of Alzheimer Scotland, said things were moving forward but it was vital to establish a dementia improvement plan for each hospital as quickly as possible.
"The human cost for people with dementia and their families is simply not acceptable," he said.
"The financial cost of inaction is also not acceptable; we can make far better use of these resources.
"Developing an improvement strategy will help us take another significant step forward in tackling these extremely challenging issues."
Key points from the action plan for general hospitals include preparing for admission and discharge and involving families, friends and carers.
At the time of the initial strategy's launch in June 2010, it was estimated dementia cost health services £1.7bn a year.