Hospital infections warning from Health Protection Scotland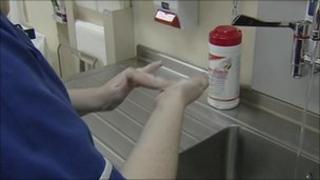 The watchdog which monitors the NHS has warned that significant progress is no longer being made on reducing healthcare associated infection rates.
Health Protection Scotland (HPS) reported a "levelling trend" after recent improvements and said new strategies were needed.
It records 50,000 infections in acute care each year and said "further preventative measures" are possible.
An HPS report identified infections caused by catheters as a problem.
The Healthcare Associated Infection Annual Report 2012 draws attention to longer-term improvements.
It points out a 78% reduction in the incidence of Clostridium difficile (CDI) in patients aged 65 and over since 2007.
But HPS said the further reduction made in 2012 was "non-statistically significant", as was the reduction in the incidence of the infection in younger patients.
Prof Jacqui Reilly, HPS lead consultant on HAI, said: "What this report shows is that the work which has been done throughout the NHS in Scotland in recent years has been very successful in reducing HAI and making care safer for patients.
"While HAI is still generally decreasing, the levelling trend shown this year in HAI incidence means that our priority now should be to build on past progress and continue to find new and innovative ways to drive HAI down even further.
"With more than 50,000 HAI in acute care in Scotland each year there remains an opportunity for further preventative measures to protect patients in Scotland."
HPS has promised to help NHS boards deal with infections associated with the use of catheters and outbreaks of E.coli infections.
Prof Reilly added: "We are determined to continue to reduce rates of HAI in Scotland and maximise opportunities for safe care for every patient, every time, everywhere in healthcare."