Paramedics 'blacklist' 600 Scottish homes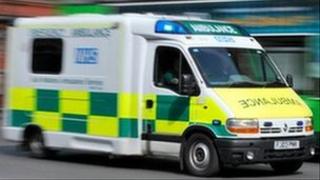 Nearly 600 homes across Scotland have been blacklisted as being too dangerous for ambulance crews to enter without police protection.
The 593 addresses have been pinpointed because of previous attacks or threats on paramedics.
The statistics were obtained by the Conservatives under Freedom of Information legislation.
The Scottish government said the figure was a "small proportion" of the country's 2.5 million homes.
NHS Lothian had the most red flagged addresses, with 162, followed by Greater Glasgow and Clyde with 147, and Fife with 68.
The Scottish Ambulance Service confirmed the snapshot for May 2013, which was an increase from the same time in 2012 when 437 addresses were red flagged.
'Completely unacceptable'
The Tories said ambulance staff cannot enter the properties, even in emergencies, unless police officers are present.
Scottish Conservative health spokesman and deputy leader Jackson Carlaw MSP said: "This is a disgraceful situation, and those who have caused this only have themselves to blame if they lose out on medical treatment in the future.
"The safety of our emergency workers has to be absolutely paramount, and it is right the Ambulance Service takes these precautions.
"You would expect there to be the odd address which would be blacklisted. But for several hundred to fall under this description is quite staggering."
A Scottish government spokesman said: "Violence against NHS staff is completely unacceptable and will not go unpunished.
"However, crime is at a 37-year low and this represents a very small proportion of around 2.5 million residences across the country."
The Emergency Workers (Scotland) Act 2005 came into force on 9 May 2005, and made it a specific offence to assault, obstruct or hinder emergency workers when they are responding to emergency situations.
The Act was extended three years later to include GPs, other doctors, nurses and midwives working in the community.