Breast cancer charity calls for uniform tests after Jolie admission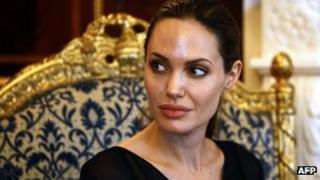 A Scottish breast cancer charity has called for the same genetic testing criteria to be in place north and south of the border.
From next month a greater number of women in England and Wales will be offered a BRCA gene test.
This was the test which Angelina Jolie took before having a double mastectomy.
The Scottish Genetics Consortium has yet to decide whether to do the same. Breakthrough Breast Cancer Charity said it hoped Scotland would follow suit.
Most cases of breast cancer are not caused by inherited genes, but about one in 500 people carries a BRCA gene fault that puts them at high risk.
Hollywood actress Angelina Jolie was told by doctors that she had an 87% risk of developing breast cancer because of genes she inherited from her mother, who died from the disease in 2007.
The 37-year-old had a double mastectomy, which reduces her risk of contracting breast cancer to 5%.
From June, new National Institute for Health and Care Excellence (Nice) guidelines will loosen the eligibility criteria for genetic testing of the BRCA cancer gene in England and Wales.
Only those with a two relatives diagnosed with breast cancer before the age of 50 are currently eligible for testing on the NHS.
'Jolie effect'
From next month it will also be available to patients in England and Wales who have a one family member diagnosed before she is 50. However, the Nice guidelines do not apply in Scotland and the Scottish Genetics Consortium has yet to make a decision.
James Jopling, the Scotland director at Breakthrough Breast Cancer, said: "It looks likely that the introduction of new Nice guidelines in England will mean more women will be eligible to be tested for faults in the BRCA genes. We welcome this and hope Scotland will follow this step in due course."
Angelina Jolie said she hoped that by speaking out about her own experience more women will get tested, and breast cancer charities are expecting a 'Jolie effect'.
A Scottish government spokesperson said: "Treating cancer is a top priority for the Scottish government and NHS Scotland and cancer survival in Scotland is improving all the time thanks to earlier diagnosis, advances in treatments and investment in staff and equipment."