Hoy backs Scottish parliament cycling demonstration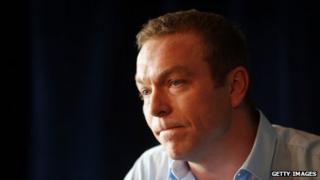 The Olympic cycling champion, Sir Chris Hoy, has urged people from across Scotland to take part in this weekend's Pedal on Parliament event in Edinburgh.
Three thousand cyclists, including families and young children, took part in the protest ride last year.
The organisers are hoping to exceed that number on Sunday.
The Pedal on Parliament "manifesto" calls for improved funding for cycling, better infrastructure, and lower speed limits in areas used by cyclists.
Sir Chris said: "Cycling isn't just about winning medals, it's an activity for everyone, be they cycling for sport, transport or just for fun.
"Thus I believe it's incredibly important that Scotland invests in safe cycling for all.
"I thoroughly support the aims and objectives of Pedal on Parliament and I urge cyclists and non-cyclists alike to attend."
Slower speeds
One of the organisers of the event, Sally Hinchcliffe, from Dumfries, told BBC Scotland: "We'd like to see a minimum of five per cent of the transport budget spent on cycling, which seems fair when the Scottish Government is looking for ten per cent of journeys to be made by bike.
"We're also looking for better design of cycling infrastructure and slower speeds on the roads in areas where people live."
A Scottish Government spokesman said: "Scotland's National Cycle Network in Scotland has over 2,000 miles of cycle routes, with 44 million trips being made annually, and this continues to grow.
"We are committed to making it easier and safer for people to cycle and that is why we are investing almost £58 million on cycling infrastructure, training and road safety projects through Sustrans, Cycling Scotland and local authorities.
"We have also provided additional funding to Cycling Scotland to develop a Mutual Respect Campaign aimed at all road users which will launch this August."