Free wi-fi for 25 Scottish railway stations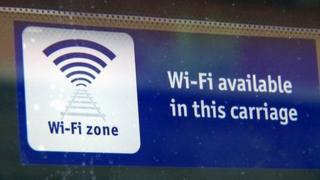 Free wi-fi access is to be introduced at 25 of Scotland's busiest railway stations by the middle of next year.
The move is the latest stage in the Scottish government's plan to ensure travellers have free, wireless internet across the rail network by 2019.
ScotRail began introducing free access on its flagship Edinburgh to Glasgow route last year and it is now being rolled out across express trains.
The Scottish government has provided £250,000 to fit wi-fi at the stations.
The sites getting internet access by 2014 will be:
Aberdeen
Anniesland
Ayr
Dalmarnock
Dundee
Dunfermline Town
Edinburgh Haymarket
Edinburgh Park
Exhibition Centre
Falkirk High
Fort William
Glasgow Central
Glasgow Queen Street
Helensburgh Central
Inverness
Kilmarnock
Kirkcaldy
Linlithgow
Mount Florida
Paisley Gilmour Street
Partick
Perth
Stirling
Wemyss Bay.
Gleneagles station will have access installed as part of its refurbishment in time for next year's Ryder Cup.
Internet access will also be introduced on board all 38 of ScotRail's new Class 380 trains - which run throughout Ayrshire, Inverclyde, Lanarkshire and the Lothians - by March 2014.
Transport Minister Keith Brown said: "In 2014, the eyes of the world will be on Scotland and we have a once-in-a-lifetime opportunity to showcase what we have to offer as a modern country.
"I am pleased that in advance of the major events taking place in 2014, visitors flying into Prestwick and Glasgow International airports, who then join the rail network, will be able to get access to wi-fi on every train.
"Combined with the station enhancements, this will help keep Scotland's railways at the forefront of wi-fi installation."
All 59 of ScotRail's Class 170 express trains are already in the process of being upgraded to offer the internet connections.
Roof router
All trains between Glasgow Queen Street and Edinburgh are having wi-fi equipment installed, along with services on Edinburgh/Glasgow to Aberdeen/Inverness routes, the Aberdeen to Inverness service, the Glasgow/Edinburgh to Stirling/Alloa routes and on the Fife circle.
Steve Montgomery, ScotRail managing director, said: "We considered several factors when selecting stations to receive wi-fi, including footfall, how long people stay in the station, number of services and the impact of major events, such as the Commonwealth Games and Ryder Cup.
"We have longer-term plans for further stations to receive wi-fi in future."
For the train wi-fi, an ethernet "backbone" is fitted to the trains, with a router mounted in the roof space close to the antennae.
Inter-vehicle "jumpers" are then used to allow internet access in all carriages.