GPs 'flooded' with letter requests due to UK benefit reforms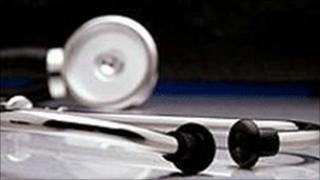 UK welfare reforms are having a significant impact on GP practices in Scotland, according to the body representing Scottish doctors.
BMA Scotland said GPs were being "flooded with additional avoidable work" as patients seek support regarding benefit payment appeals.
It has labelled the UK government's approach "flawed" and called for changes to the system.
A group of Glasgow doctors has urged GPs to refuse to write support letters.
BMA Scotland said changes to the way benefits are decided and paid are resulting in more patients going to their GPs seeking letters of support to back up their appeals.
Dr Alan McDevitt, chairman of the BMA's Scottish General Practitioners Committee, said: "The UK government's flawed approach to benefits reform and changes to the Work Capability Assessment are flooding GP practices across Scotland with additional avoidable work.
"GPs have been dragged into this process because of badly thought out policy and poorly designed systems which are impacting on general practice and having a serious effect on our patients and our relationship with our patients.
"We have been calling for some time for the UK government to make changes to the system so that the necessary information is sought at the initial assessment stage to avoid patients having to appeal inappropriate decisions."
Dr John Ip, secretary of the Glasgow local medical committee and a GP in Paisley, said he used to be asked to write one or two such letters a week for patients, but over the last year this had increased to one or two a day.
The committee has advised GPs not to respond to these sort of requests.
It said: "We are not in a position to administer nor to police the benefits system.
"GPs are not resourced to provide this service. Time taken up with paperwork is time taken away from direct patient care.
"There are contractual and agreed methods for GPs to provide medical information to the Department for Work and Pensions."
'Informed decision'
The Department for Work and Pensions said additional evidence from GPs was not a requirement for an appeal.
A spokeswoman added: "Having the relevant medical evidence when someone applies for Employment and Support Allowance is vital to ensuring we are able to reach an informed decision on someone's capacity for work.
"If the DWP requires further medical evidence it will be requested by a healthcare professional working for Atos Healthcare, which GPs are required to complete as part of their terms of service.
"If a claimant appeals their ESA decision at an independent tribunal they can submit any extra evidence which they feel may help their appeal. But it is important to note that this is not a DWP requirement."