Gordon Matheson investigated over George Square revamp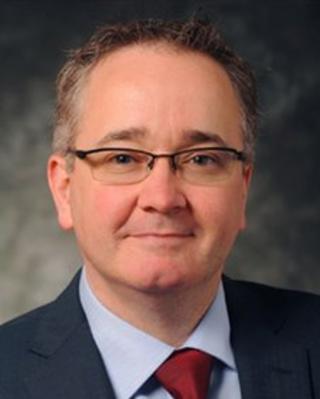 The leader of Glasgow City Council is being investigated by police over his handling of the controversial George Square revamp.
It is understood the probe into Labour councillor Gordon Matheson is being carried out by the Major Crimes and Public Protection unit.
A Police Scotland spokeswoman confirmed the force had received a complaint, which it was looking into.
Mr Matheson said he was confident of being cleared of any wrongdoing.
In a statement issued on his behalf by the council, he said: "I am happy for this to be fully investigated. I will give whatever help the police ask me to, and am confident there will ultimately be a finding in my favour."
The complaint made to the police relates to the council's decision in January to drop plans for a radical redesign of George Square.
Six visions for the square went forward to a panel chaired by Mr Matheson following a Royal Incorporation of Architects in Scotland (RIAS) competition.
Code of conduct
The design competition was won by John McAslan and Partners, but Mr Matheson subsequently announced that the council would not be proceeding with the £15m contract.
Instead, a scaled-back facelift of the square will now be carried out in time for the 2014 Commonwealth Games at a cost of about £500,000.
The RIAS last week lodged a complaint against Mr Matheson with the Public Standards Commissioner, accusing him of misconduct which violated the councillors' code of conduct.
The SNP group on Glasgow City Council has lodged a motion calling on the local authority to "invite Audit Scotland to investigate whether councillors unduly influenced the procurement process in the case of the George Square redevelopment procurement process".
Graeme Hendry, the SNP group leader, said Mr Matheson should "consider his position" while investigations were under way.
Mr Hendry added: "Councillor Matheson has been accused of some very serious offences and it is only right and proper they are investigated by all the appropriate organisations including the police.
"It would be appropriate for Matheson to consider his position in the council due to the great embarrassment he has caused the city, and the damage he has done to the council's relationship with the business community.
"It would seem those running Scottish Labour are the only people left in Scotland who don't seem to think these accusations should be investigated. Their failure to suspend or even investigate him stinks of rank hypocrisy and only heaps further unnecessary embarrassment on Glasgow whilst leaving many wondering what would it take for Labour to take action?"
In December last year, Mr Matheson was reported to the procurator fiscal by police over an alleged indecency with another man.
Prosecutors decided to take no further action after concluding that there was "insufficient evidence that a crime had been committed".