Neonicotinoids: Scottish government calls for ban to be delayed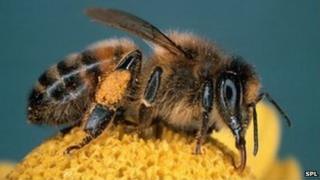 Scotland's rural affairs secretary has called for a two-year delay on the banning of pesticides which are said to harm bees.
Richard Lochhead urged the UK government to accept EU restrictions on the use of neonicotinoids.
But he said the measures should not to be implemented until more evidence has been gathered.
A vote on the proposal is due to take place in Brussels on Monday, with many members expected to back the move.
France, Germany, Italy and Slovenia have already banned the use of neonicotinoids.
The chemicals account for 1% of all pesticides used in Scotland and are mainly used to treat oilseed rape crops and some seed potatoes, as well as some horticultural crops and winter-sown cereals.
Conclusive evidence
The proposed restrictions would only affect certain uses of the pesticides on crops with flowers that are attractive to bees.
Mr Lochhead said he believed it was right for Europe to seek conclusive evidence that the pesticides are harmful to bees before the ban is implemented.
"The Scottish government takes the health of bees and other insect pollinators very seriously but, in this case, the science has not been clear cut," he said.
"Ministers have to therefore make careful judgements in the absence of conclusive evidence.
"I recognise that this is a highly sensitive and emotive subject. It is, therefore, disappointing that the results from the bumble bee field trials were inconclusive."
He added: "When it comes to protecting our biodiversity and wildlife, there are times when taking a precautionary approach is perfectly justifiable.
"It is in the interests of our environment and our farmers that we have healthy bee populations but we know there are a wide range of factors affecting these valuable pollinators."
Mr Lochhead said a two-year delay would allow any existing stocks of pesticide to be used and give enough time to ensure that any alternatives on the market do not make matters worse.
"I do not think that year after year of debate over what the science tells us will get us very far or help our bee populations or farmers," he said.
"That's why I am suggesting a precautionary approach with a built-in breathing space and exit strategy."
'Food supplies'
But the Scottish Greens accused Mr Lochhead of "appalling hypocrisy" and called on him to use devolved powers to implement a ban.
Green MSP Alison Johnstone said: "He admits the use of these pesticides only accounts for a minuscule proportion of what's used on our crops but instead of genuine precaution he's asking for a further delay.
"This is a devolved issue. The Scottish government doesn't have to go along with the increasingly isolated UK position.
"The cabinet secretary doesn't understand what the precautionary principle is or he wouldn't suggest two years of inaction. He should be demanding convincing scientific evidence that pollinator populations aren't negatively impacted by the use of neonicotinoids, and meantime he should support the call from the Environmental Audit Committee and the European Commission."
She added: "The Scottish government is patronising us, trying to put a gloss on the fact it is gambling with our food supplies. Yet again we see SNP ministers care about big business more than the long-term health of our environment. We need a moratorium on the use of these pesticides as soon as possible."