Lockerbie wreckage parts returned to Scotland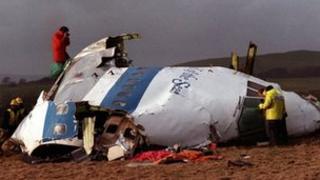 The Crown Office has confirmed that part of the wreckage of the aeroplane that exploded over Lockerbie has been returned to Scotland.
The reconstructed fuselage of Pan Am flight 103 had been stored by the Air Accident Investigation Branch in Farnborough for the last 24 years.
However, due to the refurbishment of a hangar, it has now been taken to a secure location in the Dumfries area.
The families of the 270 victims of the bombing have been told.
The flight was blown up over the south of Scotland town of Lockerbie in December 1988.
All 259 people on board the plane, which was travelling from London to New York, were killed, along with 11 others on the ground.
Libyan intelligence officer Abdelbaset al-Megrahi was the only person to have been convicted of the bombing.
Megrahi, who was released from jail by the Scottish government on compassionate grounds after being diagnosed with prostate cancer, died last year still protesting his innocence.
British investigators have been working to establish if there were other individuals in Libya who could be brought to trial for their involvement in the attack.
The Crown Office said that as the investigation into the Lockerbie bombing remained live, it would not comment further on the relocation of the wreckage from Farnborough to Scotland.
Investigators painstakingly reconstructed a large part of the aircraft's fuselage wreckage which was recovered from a huge area following the crash.
At first they were collected in Longtown, over the border from Lockerbie in Cumbria, but later were put together on a massive frame at the AAIB facility in Hampshire.
There, prosecutors studied where the bomb had been positioned and how its explosion had fatally damaged the jumbo jet.
Now, however, the AAIB needs the space and is refurbishing the hangar.
'Extremely disappointing'
Last week a convoy of lorries brought the wreckage back to Scotland, to be housed near Dumfries.
It can be reassembled, as each of the pieces has been carefully catalogued.
Prosecutors have always insisted the investigation into the bombing remains live, and they require to keep the pieces for evidential reasons.
Dumfriesshire MP David Mundell said he had concerns about the handling of the latest development.
"Discussions regarding moving the Lockerbie wreckage back to Scotland as part of live investigations have been ongoing for some time," he said.
"It is extremely disappointing that such moves have gone ahead without communication and consultations locally ahead of the event taking place.
"I have spoken to the Lord Advocate and communicated this disappointment."