Measles outbreak: Scottish children offered vaccination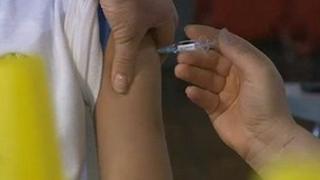 Older children not protected against measles in Scotland are being offered the chance to get vaccinated.
NHS boards across Scotland are writing to parents after a rising number of cases in England and Wales.
Problems have been caused by the number of children aged over 10 not immunised after the now discredited concerns about MMR vaccination and autism.
Scotland's MMR uptake has been high, but the chief medical officer urged parents to get children immunised.
The number of measles cases in Wales has been rising over the past six months to a total just short of 1,000.
Across the whole of England and Wales there were 2,030 cases last year - the highest figure in nearly two decades.
Scotland's chief medical officer, Sir Harry Burns, said the country had an enviable MMR uptake rate, of 97.1% in children reaching the age of five, but warned against the risk of not getting the jab.
He said: "Since the beginning of January, Scotland has seen 16 cases of measles, a very small number, largely in unvaccinated children.
"The current outbreak of measles in England and Wales is largely attributable to a proportion of children now aged between 10 and 17 who were not vaccinated due to historic concerns about links between vaccination and autism which are now completely discredited."
Sir Harry said that over the past 18 months work had taken place to ensure children between 10 and 17 were given a further opportunity to have the MMR vaccination.
He added: "However in view of the significant circulation of measles in Wales and England, NHS boards will now write to parents of all unvaccinated or partially vaccinated children aged 10-17 with an invitation to attend for vaccination over the next few weeks to ensure they are protected.
"While measles will continue to circulate throughout the UK, risks in Scotland are much lower due to our higher uptake rates and the work already undertaken over the last 18 months.
"Vaccination is the best way to protect children against serious diseases and I would urge parents to ensure their children are protected."