National Library of Scotland recruits 'Wikipedian'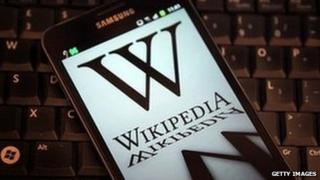 The National Library of Scotland has announced plans to recruit a full-time "Wikipedian".
The £30,000-a-year pro rata role - a first for Scotland - will involve using the library's collections to update the online user-led encyclopaedia.
The library said its "Wikipedian-in-residence" would also teach staff and the public how to add to the site.
It is the first large-scale partnership between Wikimedia UK and a Scottish institution.
Gill Hamilton, digital access manager, said the library had decided to embrace the website in order to give access to knowledge to the largest possible audience.
"The National Library is a very traditional sort of library, but we are interested in connecting with lots of different people," she said.
"We have these amazing collections, and our staff know an amazing amount of stuff, so it's trying to extract that information and use it to enrich what is there.
"For example, we have the last letter of Mary Queen of Scots. We can digitise that and add it to the Wikipedia page."
She added: "It absolutely is the future, because the National Library up here in Edinburgh can't be accessed via the front door by many. We're looking for channels to give access to people all over the world."
Ms Hamilton said the "Wikipedian" would also play a crucial role in educating librarians about how to contribute to the site, as many had been "a bit bemused until now".
Wikipedia is one of the most-used websites in the world. It estimates that is has about 500 million readers worldwide.
The concept of "Wikipedians" is relatively new. The British Library recruited its first, Andrew Gray, in May 2012.
The National Library of Scotland has advertised the post as an initial four-month contract jointly funded with Wikimedia, the non-for-profit organisation behind Wikipedia.
The deadline for applications is 6 May.