Holyrood Thatcher debate to be moved from funeral day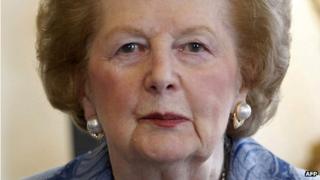 A Holyrood debate on the legacy of Baroness Thatcher will now not take place on the day of her funeral.
The Green-Independent group at the Scottish parliament had set aside their allotted parliamentary time on Wednesday to hold the debate.
It has now been postponed until Thursday. It follows pressure from the Scottish Conservatives and Lib Dems.
The change of schedule was announced following a meeting of the parliament's business bureau.
The proposed title for the Scottish Parliament debate is "There is still such a thing as society", which alludes to an assertion made by Baroness Thatcher in 1987.
In a magazine interview, Mrs Thatcher said: "There's no such thing as society. There are individual men and women and there are families."
'Insensitive timing'
The Tories had raised concerns about the debate taking place on the same day as Lady Thatcher's funeral, branding it "provocative and insensitive" and claiming it was timed to "cause the most upset".
The Liberal Democrats had backed calls for the debate to be moved.
Scottish Conservative chief whip John Lamont MSP said: "I'm glad all parties involved have reached a sensible compromise, which will see the debate take place on Thursday instead.
"We have absolutely no problem taking part in this debate, and will do so robustly and passionately.
"Our only issue was the timing, and that has now been resolved."
Independent MSP John Finnie, the Green-Independent group's representative on the business bureau, said: "Tomorrow afternoon's slot had been allocated to us for some time and is a rare opportunity for us to lead a debate.
"Given the widespread public discussion about the legacy of Thatcherism we felt we couldn't ignore the need to use our slot to assess the impact on Scottish society and the way forward.
"While we didn't feel the timing was insensitive it became clear at this morning's meeting that there was broad support for a swap of business and we were happy to agree to this."
The Thatcher debate has been swapped with a government debate on public sector procurement which will now take place on Wednesday afternoon.
Former prime minister Margaret Thatcher died a week ago, aged 87, after suffering a stroke.
She has been accorded a ceremonial funeral with military honours, one step down from a state funeral.