Drinks and food sectors 'blocking health policies'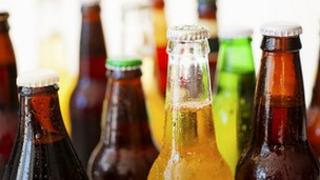 Drinks, food and tobacco industries are undermining health policies to boost sales, medical experts have claimed.
The Royal College of Physicians of Edinburgh and Scottish Health Action on Alcohol Problems urged the sector to stop putting profits before health.
They said tactics included denying the evidence and delaying legislation by mounting legal challenges.
The Scottish Food and Drink Federation insisted the sector was playing its part in improving public health.
A spokesman said its members were undertaking "on-going and far-reaching work" to "develop innovative solutions to improve public health".
"We look forward to continuing this work with Scottish government as it develops its voluntary proposals for industry action in the context of diet," he said.
However, experts in nutrition and substance misuse - representing the Royal College of Physicians in Edinburgh, Scottish Health Action on Alcohol Problems and Glasgow University - accused the industries of purposefully obstructing public health measures.
They said tactics included:
denying evidence of a problem
sponsoring sports events
using social media to bypass regulation
funding interest groups to act as a front for industry, to detract from scientific evidence
building markets in developing countries where regulation is less mature
delaying the implementation of legislation by mounting legal challenges
Ahead of the launch of the report, The '(Ir)responsibility Deal': Public Health and Big Business, the experts said they were particularly concerned that the drinks industry in Scotland had mounted a legal challenge against the Scottish government's minimum pricing plan.
Dr Peter Rice, chairman of Scottish Health Action on Alcohol Problems, said: "The tactics deployed by the drinks industry are not new and borrow heavily from those used by the multinational tobacco industry, which over a number of decades has sought to block health policies contrary to its profit-making objectives.
"It has similarly sought to undermine the Scottish Parliament by mounting legal challenges to smoking legislation."
However, the Wine and Spirit Trade Association said alcohol sales were declining overall and it was opposed to minimum pricing because it would "penalise responsible drinkers".