First osprey's egg of season laid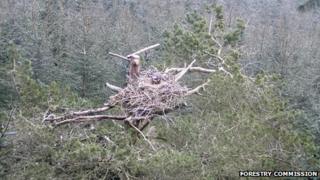 The first osprey egg of the year in Scotland has been laid in a nest at a secret site in the Borders.
Tweed Valley Osprey Project information officer Diane Bennett said the birds only arrived back from their winter sojourn on 3 April.
She said it was the 10th season the ospreys had returned to the site.
Ms Bennett added: "One of our new volunteers spotted the egg on Friday and as you'd expect, the mother osprey has been fussing over it."
She said: "The mother has made sure that she's found the best position for incubation. Hopefully there will be more eggs to come - but for now it's all good news."
The Tweed Valley Ospreys Project is a partnership between the Forestry Commission, Kailzie Gardens and RSPB Scotland.