Prince William and Kate in Glasgow as part of a two-day trip to Scotland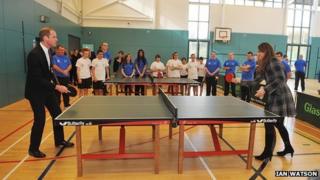 The Duke and Duchess of Cambridge have visited Glasgow at the start of a two-day trip to Scotland.
Prince William and Catherine met local young people and athletes as they toured the Emirates Arena.
The £113m arena will be one of the venues for the Glasgow 2014 Commonwealth Games.
The royal couple also visited the Donald Dewar Leisure Centre in the Drumchapel area, and a homeless shelter run by the Quarriers charity.
As they left the Emirates Arena, William and Kate stopped to chat with onlookers, with the prince accepting a request for a kiss from four-year-old Shona Ritchie.
'Pat the bump'
They also met Games organisers and aspiring athletes, before unveiling a commemorative plaque to mark their visit.
The couple were treated to a performance from the Glasgow 2014 mascot, Clyde, and Clyde's dance crew.
Glasgow 2014 marketing manager Samantha Jones said: "Clyde doesn't speak but he was gesturing to Kate about her baby as if to congratulate her.
"Before the visit he was asking if he could pat the bump, but we told him no.
"When he was signalling to her about the baby, she just laughed and said 'Oh yes, the baby. Thank you very much."'
Later, the couple visited the Stopover Project, which provides short-term accommodation and support to 16 to 25-year-olds.
The centre, which is run by Quarriers, has beds for 14 needy young people who, as well as being homeless, often have alcohol or drug addiction problems or mental health issues.
William donned headphones to DJ at the centre - but admitted his attempt at mixing Run DMC's It's Like That with a collection of beats and samples had been more difficult than his day job of flying a helicopter.
The Duke and Duchess ended their public engagements at the Donald Dewar leisure centre, where they played each other in a short game of table tennis.
Stately home
Stephen Grimes, 16, from Drumchapel, said: "They're both quite good.
"The club played with David Cameron when he visited quite a while ago; I would say Kate is better than him. Kate and William would be a really good doubles team."
During their visit to the Donald Dewar centre, the couple launched the first Scottish pilot of the Royal Foundation of the Duke and Duchess of Cambridge and Prince Harry's Coach Core programme.
It is designed to help at least 20 young people into 18-month coaching apprenticeships ahead of the Commonwealth Games.
On Friday, Prince Charles will join William and Catherine on a visit to Dumfries House.
The prince has had a close involvement with the stately home in Ayrshire since 2007 when he helped raise funds to keep it open to the public.
He will be showing William and Catherine, who are known as the Earl and Countess of Strathearn in Scotland, around a new outdoor centre situated in the grounds.
The visit will be marked by a fly-past of three Typhoons from RAF Leuchars - a base close to St Andrews University where William and Catherine first met as students.
The royal couple will then travel to Barrow-in-Furness, Cumbria, to learn about the new Astute Class of nuclear powered submarines being built for the Royal Navy by BAE Systems.