Inconsistencies revealed over disposal of baby ashes in Scotland
A BBC Scotland investigation has found inconsistencies in the way crematoriums deal with the ashes of babies.
Just months after it was revealed baby ashes had been secretly buried in Edinburgh, the BBC found evidence that whether parents receive ashes depends almost entirely on where they live.
Ashes were not returned in any of Aberdeen's baby cremations since 2008, while in Inverness 100% were returned.
Aberdeen City Council has ordered an audit of operations at its crematorium.
Parents in Edinburgh were told in December that ashes from cremations at the city's Mortonhall Crematorium may have been buried without their knowledge.
Grieving parents had for decades been told by the crematorium there would be no remains from the cremation of their baby, only to find out ashes had been secretly buried behind their backs.
It is thought the practice was carried out from the 1960s until 2011.
Now a BBC documentary, Scotland's Lost Babies, has revealed that the process of secretly disposing of babies' ashes was not confined to Edinburgh, with at least one other case in Fife.
Cremation procedures are now coming under increasing scrutiny, with the former Lord Advocate Dame Elish Angiolini due to lead an inquiry into what happened at Mortonhall.
For the first time, BBC Scotland has identified the crematoria which return ashes and those which do not, using Freedom of Information (FoI) legislation.
The BBC asked every council in the UK about its policies regarding baby cremations over the past five years and how many times it had returned ashes to parents.
Hazlehead crematorium in Aberdeen did not return ashes in any of its 24 cremations of stillborn babies and those aged up to six months over the past five years.
The council told the BBC that in its crematoriums, there were no ashes from children up to the age of 18 months.
However, Tim Morris, chief executive of the Institute of Cemetery and Cremation Management, said Aberdeen's response was "disturbing".
He said: "No remains from an 18-month-old child? I would revisit that result. That ... must be a mistake."
Aberdeen City Council has now ordered an independent audit of work at Hazlehead crematorium.
Chief executive Valerie Watts said: "I am confident that our own dedicated crematorium staff have acted with the utmost professionalism at all times in dealing with the deceased and their families.
"I am very aware, however, that people clearly need to have absolute confidence that we are dealing with these matters in a thorough and sensitive manner.
"I have, therefore, instructed that a precautionary independent audit should be carried out into the operation at Hazlehead Crematorium for the sake of openness and transparency."
Cot death
In contrast to Aberdeen, Highland Council's crematorium in Inverness had a 100% record of returning ashes to parents over the five-year period.
Glasgow City Council admitted it held the information, but refused to provide it because it had not yet been collated - a position the BBC intends to challenge with the Information Commissioner.
In Fife, ashes were recovered in 45 out of 87 cremations of stillborn babies and those aged up to one year. However, the BBC uncovered a case of ashes being secretly scattered here.
Carol Howden lost her son John to cot death in 1988. At the time she lived in Fife, and the funeral was held at the council-run Dunfermline crematorium.
Despite her son being aged four months and weighing 22lbs, she was told by her funeral director that there would be no ashes. Carol said she was left devastated by the revelation.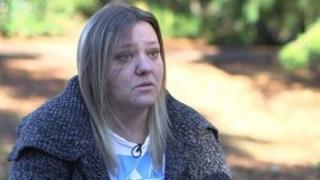 She said: "I told him 'I don't care, even if it's the tiniest little pinch of salt, I don't care. I need to have something'. And he said there wouldn't be anything. There would be no ashes whatsoever."
But BBC Scotland discovered that her son's ashes had in fact been dispersed on the crematorium grounds.
Reacting to the news, Carol said: "How could they do that to anybody? There's no way to make it better.
"Yeah I can go down and go to Dunfermline crematorium now and, and know that he's there. But I should have had the right to know that for the last 25 years."
The BBC was unable to trace the funeral director but Fife Council has apologised to Carol.
Edinburgh City Council did not respond to the FoI request because of the ongoing investigation into Mortonhall.
Many of Mortonhall's cremations had been referred by NHS Lothian, whose guidance for bereaved parents states that if parents choose Mortonhall, no ashes would be returned and that if ashes are sought, they should make alternative arrangements.
However, the guidance also states that NHS Lothian would only pay for the cremation if it's held at Mortonhall.
The BBC challenged chief midwife Maria Wilson on this, who said that parents are now given a choice about where they cremate their babies, and that NHS Lothian had paid for cremations away from Mortonhall.
She admitted their guidance had been misleading, said it was under review and apologised to parents.
The BBC investigation also uncovered documents which help explain the reasons behind the crematorium's decades-long policy of not giving ashes to parents.
'Tip of the iceberg'
George Bell, the man who ran Mortonhall for 30 years until he retired in 2011, has yet to comment on the scandal. However, an internal statement provided by him to Edinburgh Council's inquiry said that there was a difference between the "cremated remains" of a child and what is colloquially known as "ashes".
He claimed that because babies bones are soft, he could not guarantee that what was left in the cremator after the process was the actual "cremated remains" of the chid, and not coffin ash. He says he was just following guidance from the Federation of Burial and Cremation Authorities (FBCA).
FBCA guidelines say that parents should be warned that remains could not be guaranteed to be that of their child.
Tim Morris from the ICCM, said: "The Institute's position is that there is no difference between ashes and cremated remains … whatever is left after the last flame has ceased is ash and that should be given to the parents."
Patrick McGuire of Thompson Solicitors, representing a number of families affected by Mortonhall procedures, said: "It's perfectly clear to me that what we are facing at the moment is simply the tip of the iceberg of a scandal that will run throughout all of Scotland, and that by the time all of the facts are out, I've no doubt that there will be no community in all of Scotland that is not affected by this."
BBC Scotland Investigates: Scotland's Lost Babies will be broadcast at 22.35 on BBC1 Scotland, and afterwards on the BBC iPlayer.