Top Scots websites among UK domains catalogued by libraries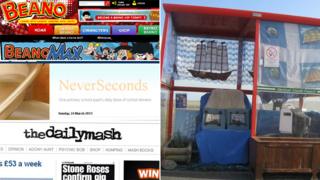 The homepage of a Scottish bus shelter and a school dinners blog feature on a new list of websites which could help historians of the future learn about life in the early 21st Century.
The list of 100 websites has been drawn up by the UK's leading libraries.
New legislation gives them the power to archive UK web domain names for the first time.
The list includes big names like Amazon, Facebook and Tripadvisor but also has some more obscure offerings.
From 6 April, the National Library of Scotland, British Library, National Library of Wales, Bodleian Library, Cambridge University Library and the library of Trinity College Dublin will collect and store websites in the same way printed material has been collected for centuries.
Experts from all the libraries were asked to chose the sites which they think will be essential reading for future generations researching life and culture in 2013.
'Harvesting the web'
A selection of Scottish websites feature on the list, including Blipfoto, a community site that began in Edinburgh which sees each member publish one photo per day, and The Beano comic.
Unst Bus Shelter, another of the sites listed, tells the history of a bus shelter on a remote Scottish island and how it became a tourist attraction due to the power and reach of the internet
The NeverSeconds blog, also featured, became an internet sensation after primary school pupil Martha Payne uploaded photos and wrote reviews of her school meals.
The Daily Mash, a British satire site providing scathing commentary on current affairs since 2007 and founded by Scottish journalists, is also listed.
The UK list includes familiar names such as eBay, the BBC, Gumtree, Mumsnet and retailers Next and Argos.
Martyn Wade, Scotland's national librarian, said: "The average life of a webpage is around six to 10 weeks. After that it, and the important information it can contain, can be lost forever.
"From this weekend we will be able to start harvesting the entire UK web domain, helping future generations to understand what we did and how we lived."