From Soviet gulags to Scotland: Son unearths Stepek family story
By Clive Lindsay
BBC Scotland news website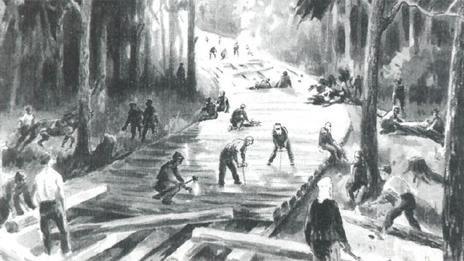 To most, Jan Stepek is best remembered as one of the pillars of the Scottish business community or as a former owner of Hamilton Academical Football Club.
He may even be known for providing board for members of Solidarity in Scotland as they planned the downfall of the Communist regime back in his native Poland in the 1980s.
But it took a major illness and his son Martin's determination to get him to tell the harrowing story of his family, who were deported to Soviet labour camps by Stalin in 1940.
Now he has turned his family's wartime story into a book, For There Is Hope.
Jan Stepek died, aged 90, in October - just before the book's planned publication date. His Scottish wife, Teresa, died just weeks later at the age of 84.
The book's release was delayed for the addition of tributes to the couple.
Martin said it was a painful time, but he was glad he had taken the trouble to find out about his past.
"I had known that my father had been taken to Siberia, but I had not been interested in his background," said the 54-year-old.
"I knew that his mother had died, that he suffered serious illness, that he joined the Polish navy and settled in Scotland, and I knew that it would have been dangerous for him to go back.
"But, in 2001, my father had three minor strokes in 18 months and I realised that, if he had another one, there was a chance he would die.
"So I thought that I had to get the full story from him about what actually happened."
Martin explained: "I started interviewing him about his early life - and had to ask all the hard questions, like when he had last seen his own mother and father alive.
"It was not only a fascinating story, but it also brought my father and I closer together.
"He had always been a strict and impatient father, but he softened through the combination of illness and the deeply emotional questions he was being asked.
"Our relationship was at its closest in the last 12 years of his life.
"My own kids saw him as this warm, cuddly old grandfather but had no clue of the immensity of his early life - and that was my goal, to preserve dad's life for them."
Jan explained to his son how his own father, Wladyslaw, had fled arrest and likely execution by the Red Army for being a resistance fighter, later dying while fighting within Nazi-occupied territory.
When Jan was 17, he was taken to Siberia by cattle truck with his mother, Janina, and two younger sisters, Zosia and Danka.
The Stepek family were among only 250,000 Poles known to have survived the gulags.
Those imprisoned were only freed - malnourished and barefoot - 18 months later because Joseph Stalin had to divert his troops' attention to Adolf Hitler's invasion of the Soviet-occupied half of Poland.
The Stepek family then endured a 6,000-mile journey to Kazakhstan, where they were subjected to more slave labour before being taken by ship to Persia - only for Janina to die of starvation shortly after reaching freedom.
In the capital, Teheran, the three children gradually recovered sufficient health to serve the Allied cause as part of the Polish armed forces.
Jan was eventually stationed in Kirkcaldy for part of the war, then went on to put his armed services radar training to peacetime use. He settled in Scotland to study at the Royal College of Technology, now the University of Strathclyde, in Glasgow.
There, he met his future wife at a dance hall. The couple established J Stepek Ltd, a radio and TV repair business, in their front room in Cambuslang.
The firm expanded to encompass 22 shops involved in electrical retail, travel, furniture, financial services and property, but went into administration in 2002.
Martin was also involved in the family business, and had a brief flirtation with organised politics as convenor of the Scottish Green Party.
He is currently chief executive of the Scottish Family Business Association, a coach in the mindfulness meditation technique, and was a founder of the Ethical Network business group.
Martin also wrote poems "as a kind of catharsis" with no thoughts of publishing.
However, that changed following emotional responses he received after sharing one with the internet group Kresy-Siberia, which had helped with his research, then at a reading at the Sikorski Polish Club in Glasgow.
The book which followed also includes illustrations depicting labour camp scenes, which were drawn by an unknown artist and were found at the club.
"At first, I saw it as a collection of poems then started looking at it like a mosaic, almost like a concept album," said Martin.
"It is almost like two stories. What happened to my father's family and my reflections on that story as I was finding it out."
Related Internet Links
The BBC is not responsible for the content of external sites.