Scottish poll finds Christian belief in decline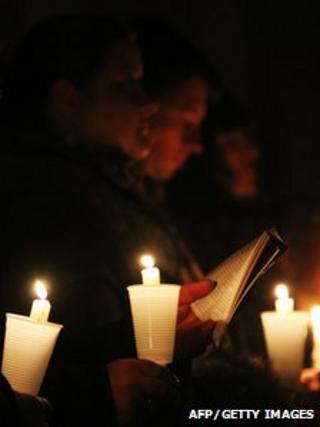 The proportion of people in Scotland who see themselves as Christian has fallen to 55%, a poll has found.
The Panelbase survey of more than 1,000 Scots indicated apparent uncertainty even among church members.
In the reformed churches, 23% of respondents said they did not believe Jesus was real; the figure for members of the Catholic church was 14%.
A fifth of Catholics said they are less likely to attend church following the resignation of Cardinal Keith O'Brien.
He resigned as leader of the Scottish Catholic church after allegations about his relationship with other men.
Research carried out in 2001 found that two-thirds of Scots described themselves as Christian.
When asked about Catholic church traditions, 54% of those responding said priests should be allowed to marry.
On homosexuality, 40% said the church should be more accepting of same-sex relationships.
Christian faith was found to be strongest among women aged over 55, and amongst men and women in skilled manual trades.
Panelbase Managing Director Ivor Knox said: "That less than a third of Scots have been to church in the last year speaks volumes.
"There is a clear desire for religious leaders to move with the times, with only 10% of Scots feeling that the new pope should maintain traditional positions and three quarters of Roman Catholics wanting to see change."
The poll which was commissioned by the Sunday Times and Real Radio Scotland.