Record year for Scottish renewables in 2012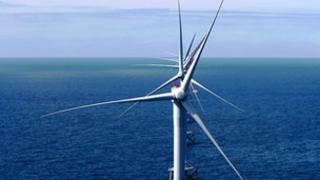 Scotland generated 7% more renewable electricity in 2012 than it did the previous year, data has shown.
The Department of Energy and Climate Change report said 14,600 Gigawatt hours were generated in Scotland from renewables such as wind and hydro.
The Whitehall department said this represented more than a third of the UK's total renewables output in 2012.
The Scottish government said it had generated enough electricity to power the equivalent of every Scottish home.
The amount generated also represented 39% of Scotland's total electricity needs.
The DECC figures showed that wind generation in Scotland was 8296 GWh, up 19% on 2011, and more than four times the level in 2006.
By the end of 2012, there was 5,883 MW of installed renewable electricity capacity in Scotland, an increase of 22% from the end of 2011.
Scottish government Energy Minister Fergus Ewing said Scotland's contribution to the UK's renewable output demonstrated the importance of Scotland's role in helping the UK meet EU renewable energy targets.
He said: "We remain firmly on course to generate the equivalent of 100% of Scotland's electricity needs from renewables by 2020 - with renewables generating more than enough electricity to supply every Scottish home."