Leaping Bunny looks beyond animal cosmetics test ban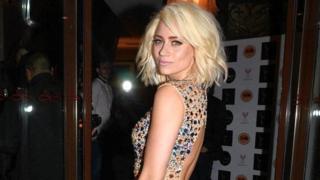 Earlier this month a complete ban on the sale of cosmetics developed through animal testing took effect in the EU. But testing times remain for those who want a worldwide end to the use of animals for proving the safety of cosmetics.
Aberdeen-based businesswoman Laura McComiskie says she is "overjoyed" that the "landmark" ban is in place.
It applies to all new cosmetics and their ingredients sold in the EU, regardless of where in the world testing on animals was carried out.
Ms McComiskie hopes the message will now spread to countries such as the US, Australia and New Zealand, as well as China.
She is a supporter of the Leaping Bunny programme, set up by the British Union for the Abolition of Vivisection (BUAV), which tries to ensure no new animal testing is used in any phase of product development.
Ms McComiskie, who has recently teamed up with former Pussycat Dolls singer Kimberly Wyatt to set up ethical make-up company Beautiful Movements, says she had previous experience of meeting the Leaping Bunny's standards through her skin care label, Love The Planet.
"We did not really find it a problem to source non-tested ingredients and create our products, so there should be no excuse for companies with bigger resources," she says.
"We have a manufacturer that goes through all the procedures using outside consultants to make sure our products are safe for human use."
However, some who are fully supportive of making cosmetic testing "cruelty-free" believe the EU-wide ban that came into force on 11 March will make life more commercially painful.
Industry regulator The Cosmetic Toiletry and Perfumery Association (CTPA) believes that, without some animal testing, their members will miss out on exploiting innovations available to their competitors outside Europe.
Dr Christopher Flower, director general of CTPA, says: "For more than 20 years, our scientists have worked diligently to develop scientifically valid alternatives to animal tests to ensure safety.
"If we are disappointed, it is because the scientific reality has been ignored completely; there will not be alternatives for the remaining animal tests for many years to come (this is the opinion of the European Commission's own scientists) regardless of the money invested - science itself cannot proceed any faster.
"Since we will not compromise on safety, there will be innovations that will not be available to European consumers first in future."
A commitment to non-animal testing is not confined to those who apply for BUAV accreditation.
Adrian Whalley, of another Aberdeen-based company, Natural Skincare Factory, said: "We are a family firm and I remember my mother using myself and my sister to test her products.
"So it has never been a barrier for us as we don't believe in animal testing - the cruelty involved in a test for a simple eye shadow or lipstick is unbelievable."
Vicky Eubank, of Live Native Ltd in the isle of Skye, believes that all the extra paperwork required to meet the standards necessary to have the Leaping Bunny logo on her products is worth it.
"The Leaping Bunny is a very rigorous system," she says.
"But, as a vegan company, we feel strongly about the issue of animal testing.
"We opted to go down the BUAV road not because of any financial gain but because we believe you can't justify testing on animals just to look good.
"You might argue that companies like ours might lose any potential advantage if everyone is cruelty free, but I think it is still incredibly positive."
Indeed, Ms Eubank pointed out that the new EU rules do not mean a total end to animal testing by European companies.
"British companies can still test outside of the EU or use ingredients that have not specifically been designed for skin care but have been tested on animals," she says.
"When selling to the EU, the new rules do not make a big difference for us, but a lot of ethical companies come a cropper when trying to sell to China."
The massive and growing Chinese market is closed to those who do not test the safety of their products on animals.
L'Occitane, Yves Rocher and Caudalie are among big brands who had their Leaping Bunny retracted last year after deciding to sell their products in the expanding Chinese market.
Bill Carr's Body & Face Ltd has met the Leaping Bunny standard, but the owner of the Aberdeen-based company is concerned that large companies are able to blur the edges between pharmaceutical ingredients, which can be tested on animals, and cosmetics, which now cannot.
"The industry has become a lot more competitive and complex and, in the lead up to this, a lot of big pharmaceutical companies have been pioneering new expensive research and producing new molecules to steal a march on the small companies," he says.
"There's a lot of smoke and mirrors in the industry and some who come out with products they proclaim as natural and organic are based on animal tests done by pharmaceutical companies."
'Grey areas'
Mr Carr is also concerned with amount of paperwork now required by new rules over notification, safety assessment reports, labelling, monitoring and reporting.
"There's a need to go out to quite high-performance labs to get tested," he said.
"That's understandable, but it makes it more difficult for small players.
"There's an awful lot of grey areas in the legislation and some guidelines, such as for nano materials, have yet to be agreed."
However, BUAV director of policy Dr Nick Palmer said the final phase of the ban had levelled the playing field.
"We believe the ban is beneficial to smaller companies that previously did not have the resources to conduct animal tests overseas," he said.