Scottish government plans smoke-free hospital grounds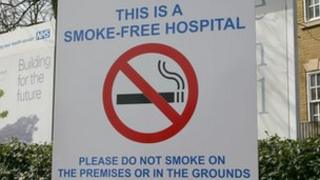 The Scottish government has announced plans to ban smoking on NHS grounds by 2015.
The move means patients, visitors and staff would no longer be able to smoke anywhere on NHS sites.
People will be offered advice and support to help them not to smoke during hospital visits.
Ministers said the move, which comes seven years after the ban on smoking in public places was introduced, was aimed at promoting healthier lifestyles.
Under the plans, NHS Boards will be required to implement and enforce smoke-free policies across their grounds by March 2015.
Health Secretary Alex Neil said: "This government has ambitious plans to reduce the number of people choosing to smoke.
'Powerful message'
"We know that smoking is extremely harmful to health and causes in excess of 13,000 deaths per year in Scotland.
"The toll of smoking on our nation's health cannot be underestimated.
"Creating smoke-free hospital grounds sends out a powerful message that every visit to our health service is an opportunity to promote and improve people's health."
In 2005, the Scottish Government issued guidance on smoking policies for the NHS, local authorities and care providers that gave NHS boards the power to ban smoking on their premises.
The new measures will not apply to mental health facilities, which have an exemption to allow the provision of designated smoking rooms under the original smoke-free legislation.